Titanic set to make a splash at Legacurry
by SARAH TOLAND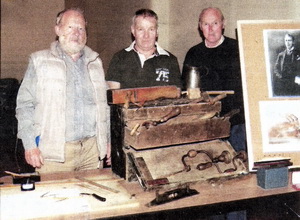 ONE of the most iconic ships in history, R.M.S Titanic, is set to make headlines again as Larchfield Community Development Association is hosting a festival to mark the centenary of the laying down of the keel of the famous White Star Liner.
The Festival starts on Saturday September 12 with an exhibition in a marquee beside Legacurry Orange Hall and will be open from 11am until 6pm.
On display will be items loaned by generous Lisburn man, Billy Nelson, who is an avid collector of White Star Line artefacts and memorabilia, including commemorative coins, medallions, post cards and pictures relating to the Titanic in particular and the shipyard of Harland and Wolff in general.
There will also be an illustrated lecture in connection with the Titanic in Legacurry Orange Hall on Thursday 17th September at 8pm. Speaking of the event, Secretary to the Larchfield Community Development Association, Jim Halliday, said: "The Festival is in conjunction with The Harry Ferguson Tractor Rally and the aim of the display is to entertain our audiences with memorabilia from the Titanic, giving them something to do until the tractors return."
"My interest in the Titanic and the history surrounding it started when I worked as a lift engineer on P&O ferries and Sealink. Since then I have collected as many artefacts and memorabilia as I could. It really has become a huge interest of mine."
"There will be rows of old coins, models and pictures on display for people to look at. A mock living room and corner shop will be built for the event which will be identical to what they looked like in 1912.
"This will really add to the experience and make people feel like they are stepping back in time."
The Festival will finish off on Friday September 25 with a Barbecue and Dance where patrons will be encouraged to
come in period costume, keeping with the Edwardian era or alternatively you can wear shipyard style clothing.
Everyone will be most welcome to all three events. For more information, please contact Jim Halliday on 9267 6494.
Ulster Star
04/09/2009