It's a boy -Toby the Llama is a new arrival in Ballinderry
by JILL LOUGHLIN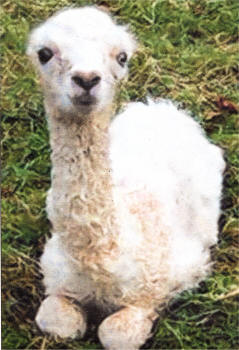 THERE was a new arrival in Ballinderry last week when Huni and Bobo, two Llamas owned by local woman Carolyn Montgomery, became the proud parents of a baby boy called Toby.
The newest addition to the family weighs 22 pounds and has a great appetite. Llamas eat mainly hay, grass, and grain and drink water. For treats they like cut-up apples, carrots, broccoli and orange peels.
Carolyn, who has owned the Llamas for two years said, "Huni's pregnancy lasted 51 weeks. The Mum and Dad are very good with Toby, especially the Dad. They are very inquisitive animals and like to see what goes on around them." She added, "Llamas are easy to
look after. The weather doesn't bother them as they lie outside in all types of weather instead of going into their shed. They also get on great with other animals."When Toby gets older he will weigh an average of 250-500 pounds. His full body size will be reached by the fourth year, and while there are no obvious differences between the sexes, males tend to be slightly larger and heavier than females. Their normal life span is up to 15 to 25 years. Llamas are members of the camel family and originate from South America. They are pack animals, wool producers and very intelligent, gentle animals.
Ulster Star
20/03/2009