Residents of home share wartime memories with pupils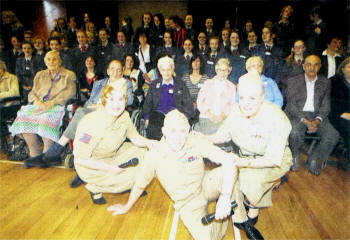 Pat Morris, Brian and Barbara Walker of Dance Unlimited pictured with pupils of Hunter House College and Residents of Kingsway Nursing Home during a second world war concert at the School.
PUPILS from Hunterhouse College have been hearing first hand experiences of World War Two from residents of Kingsway Nursing Home.
Residents from the local nursing home had a day's cultural entertainment and learning experience with the pupils.
In a unique partnership between the school and the nursing home, pupils have been benefiting from work experience over a number of years. The relationship developed further this year to include an extracurricular event to help pupils understand the experiences of World War Two from residents of the care home who actually lived at that time.
This event was extremely beneficial for the pupils as they got to ask questions before taking their findings and working with the residents to do an overall presentation at the end of the day.
Operations Director for Care Circle, Martin Doran commented:
"The event was exceptional. It provided the pupils with firsthand experiences of World War Two which made the topic more interesting and easier to understand. But our residents also got a lot from the day. They love to spend time with today's youth and this event gave them something to look forward to and numerous stories to bring to the other residents.
We hope to continue this type of outreach event again next year and would also like to roll it out across our other care homes in Ballymena and Kells."
The day was rounded off by a special performance from GI dancers recreating a wartime dance exhibition.
Ulster Star
06/03/2009