Local family's ice dream for Zoe
by JENNY MONROE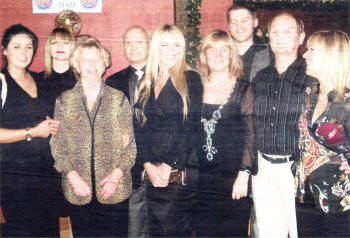 A photo of the Salmon family at a recent get-together. Left to Right: Naomi and Lara (Zoe's sisters) Margaret and Bertie Salmon (Zoe's aunt and uncle), Zoe Salmon, Heather Salmon Wilson (Zoe's cousin), Julian (Zoe's brother), Joe and Priscilla (Zoe's Mum and Dad). Family not in photo, Tamasin and Ian Wilson (Heather's husband and daughter).
WHILE most people in Northern Ireland are cheering on Bangor girl Zoe Salmon in Dancing on Ice, some local people have an extra special reason for making sure they cast their votes.
For 29-year-old TV presenter Zoe's aunt and uncle Margaret and Bertie Salmon live in Hillsborough while her cousin Heather Wilson lives in Dromara.
The Salmon family are hoping people in the Lisburn area will get behind the ex-blue Peter presenter and make her the queen of the Ice.
The star's cousin Heather said that the family circle is "so proud of her".
She said: "We are absolutely delighted that she is doing so well.
"When My mother goes to the hairdressers all the talk is about Zoe. We just want her do as well as she can. We are all very proud of her and we would love it if Lisburn showed their support for her too."
She continued: "My heart stopped beating when she stumbled a little on Sunday and it just showed how difficult it, is but she recovered so well.
"They make it look so easy and when somebody does wobble it makes you realise how difficult it actually is."
Zoe whos late grandparents Mary and Joe also lived in Lisburn, injured herself during tough rehearsals before Sunday's live show. Speaking after her performance she said: "It was a tough week and an injury at the last minute didn't help.
The star said she rested her sore leg on Monday and was back to training.
"I'm having such a wonderful experience. Thanks so much again for all your votes. I really, really do appreciate it."
Catch Zoe on ITV1 on Sunday evening and show your support.
Ulster Star
30/01/2009