Lisburn Pipe Band were Champion of Champions in 1968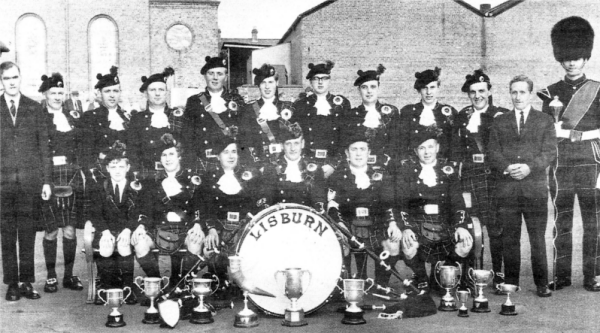 Lisburn Pipe Band in 1968 after being crowned 'Champion of Champions'. President Stan Coates (in suit on right). Seated behind the drum is Secretary Jim Reilly and to his left is Pipe Major Bobby Brannigan.
LAST week's article featuring David Friars discovery of long forgotten Pipe Band competition programmes brought back memories for Bobby Brannigan, Pipe Major of Lisburn Pipe Band when they were crowned Champion of Champions in 1968.
Lisburn Pipe Band, who were promoted from Grade Three to Grade Two in 1968, were so successful they featured prominently in the Ulster Star on August 31, 1968.
In the Star almost forty years ago, a reporter notes: "It's thanks to these three men - Albert Spence, Jerry Francis and John Gregory and to new pipe major Bobby Brannigan that Lisburn Pipe Band has reached its present high pinnacle.
"Pipe Major Brannigan, assisted by Don Watson, drum instructor, has helped the band take away prizes in every competition entered, including competitions where they were forced to play in a grade higher than normal.
"Since April 1968 it's been one success after another, with firsts at Armagh, Dundalk, Antrim, Banbridge and Bangor. At the Stranraer festival they competed in a class above themselves and finished a creditable third.
"Real success, however, came on August 17 when they carried off the title of Ulster Champions. This was only deserved since in July they were second in the All Ireland and this month the tag of 'Champion of Champions' was attached to them." Lisburn Pipe Band continued to be successful, under the leadership of Leslie McIlear, who took over from Bobby Brannigan, and Jackie McComb who succeeded Mr McIlear. In 1974, however, the band was amalgamated with the UDR Pipe Band.
Ulster Star
17/08/2007