St. Patrick's Church Aghagallon
| | |
| --- | --- |
| | |
| St. Patrick's Church, Aghagallon. | Interior of St. Patrick's Church, Aghagallon. |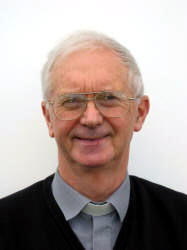 The Very Rev. Laurence McElhill
Parish Priest
Aghalee Road, Aghagallon.
Parish Priest: The Very Rev. Laurence McElhill
Telephone: 9265 1214
Sunday Mass: Vigil 7.00pm, 9.00am & 11.00am.
Website : www.downandconnor.org
HISTORY
St. Patrick's Church, Aghagallon was opened during wartime in 1942, replacing churches dating back to the mid-eighteenth century. The church built in 1784 fell victim to the 'wreckers' of 1798 who, in the bitter political atmosphere of the time, vented their anger on some Catholic Churches. A new church replaced it in 1834 and served the parish until 1942, when the present church was opened.
The present Parish Priest, the Very Rev. Laurence McElhill, was installed here in August 1998.