Holy Trinity, Aghalee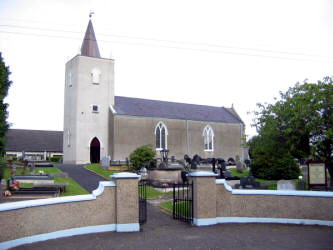 Holy Trinity, Aghalee, built about 1686.
Rev Charles McCartney
Rector
Rev Edward Gorringe
Curate
Soldierstown Road, Aghalee
Rector: Rev Charles McCartney
Telephone: 9265 1233
Sunday worship:
Morning: 8.30am and 11.30am
Evening: 6.30pm
Aghalee Parish Church also hold a service at
Maghaberry Methodist Church at 10.00am
From January 2006, this will be a joint service held at 10.30am.
Website: www.aghalee.dromore.anglican.org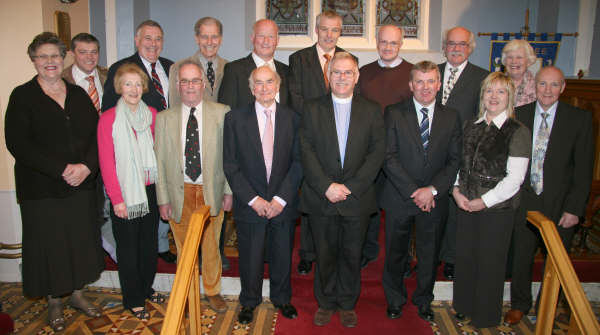 The Rev Charles McCartney pictured with Aghalee Parish Select Vestry in March 2009.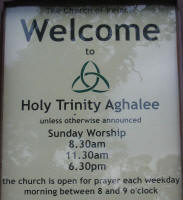 Holy Trinity, Aghalee
Notice Board
Brief history as recorded in a book 'Lisburn's Rich Church Heritage' by John Kelly
It is locally said that this church was built about 1686 and that the original roof was of oak and shingles. In about 1792 the shingles were replaced with a slate roof. However, in 1827 it was again unroofed and the old oak with which it was originally roofed was sold by auction for the benefit of the new repairs. The sidewalls were raised 6 feet and a new roof added. The present spire was added later, at an expense exceeding £100. The neighbourhood in which the church is situated, and from which it takes its local name of "Soldierstown" church, derived that term from a troop of horse and two companies of foot soldiers having been stationed for some time in a hamlet, near the church, during the 1641 wars. In 1899 a major refurbishment of the church was carried out - new seating was installed and the old ceiling removed and the roof lined with pitch pine (the old oak was sold by auction for the benefit of the repairs). A new pulpit and prayer desk were installed and the old chancel was replaced. The Parish Hall was built in 1982 and the slates on the church roof were replaced and damaged rafters repaired. In 1999 the tower was completely renovated, re-plastered and made weather proof.
The present rector, the Rev Charles McCartney was instituted on 18th September 2008. Edward Gorringe, who had been curate since his ordination in June 2007, left at Easter 2009 to work as a part time Territorial Army chaplain to the forces in Northern Ireland while the regular chaplains have been deployed overseas.
Maghaberry Parish join with the Methodist Church for a service of united worship held each Sunday morning in Maghaberry Methodist Church, recently renamed the Church on the Hill.
This brief history is largely compiled from a booklet written for the parish's tercentenary in 1977 by the Rev. Samuel J. Brennan.
For a more detailed history of the church, click on: www.aghalee.dromore.anglican.org