Broomhedge Methodist Church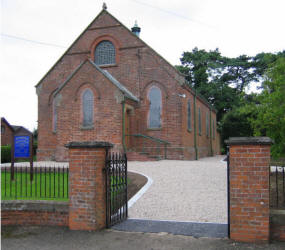 Broomhedge Methodist Church,
built in 1897.
Rev Dr Peter Mercer
Minister
Rev Dr Edmund Mawhinney Assisting Retired Minister

Rev Dr Peter Mercer pictured with the congregation of Broomhedge Methodist Church at his first service as their new minister on Sunday 9th August 2009.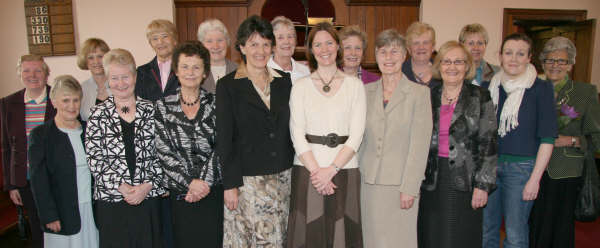 At the Broomhedge/Priesthill Methodist Women in Ireland annual service in Broomhedge Methodist Church in April 2009 are L to R: Judith Lilley, Helen McKendry, Norma Stafford (Vice President), Sandra Ker (Speaker), Anita Gracie (President), Moyra Megarry, Carol Gordon (Treasurer) and Mary Spence (Organist). (back row) Rosemary Boyes, Margaret McCann, Ann Campbell, Annie Whittington, Lila Murphy, Mary McKeag, Gladys Boyes, Linda Fullerton and Helen Fullerton.
Halfpenny Gate Road, Moira.
Minister: Rev Dr Peter Mercer
Assisting Retired Minister: Rev Dr Edmund Mawhinney
Telephone: 9082 6920
Sunday services:
Morning: 11.45am
Evening: As arranged
| | |
| --- | --- |
| | |
| Rev Dr Peter Mercer pictured with members of Broomhedge Methodist Church Council. L to R: (front row) Florence Boyes, Rev Dr Peter Mercer, Terry Lilley (Society Steward) and Caroline Chambers. (back row) John Anderson (Secretary), David Megarry, Andrew Boyes (Treasurer) and Bennett Megarry. | Broomhedge Methodist Church Notice Board |
HISTORY
The origins of Broomhedge Methodist Church go back to 1751 though the present church building was constructed in 1897. Today, Broomhedge has a friendly congregation of about forty, which includes an active Sunday School work. A youth club meets in the church hall on Saturday nights and the congregation undertake numerous gospel and social activities throughout the year.
The present minister, the Rev Dr Peter Mercer commenced his ministry at Broomhedge Methodist Church on Sunday 5th July 2009 and at Magheragall Methodist Church on Sunday 2nd August 2009. Previously minister of Greencastle Church on the Newtownabbey Mission Circuit, Dr Mercer will have pastoral oversight of both Broomhedge and Magheragall in succession to the Rev Ed McDade. Retired Minister, the Rev Dr Edmund Mawhinney, will assist Dr Mercer at Magheragall and Broomhedge. Mr McDade, who previously had pastoral oversight of Broomhedge, Magheragall and Trinity Methodist Churches, will now concentrate his ministerial duties solely on Trinity Methodist Church.