Church of the Nativity, Poleglass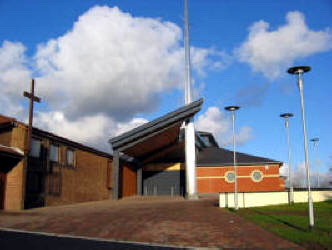 Church of the Nativity, Poleglass
| | |
| --- | --- |
| | |
| The Very Rev Patrick Sheehan, PP | Rev Vincent Cushnahan, CC |
Bell Steel Road, Poleglass.
Parish Priest: The Very Rev Patrick Sheehan, PP
Telephone: 9062 5739
Assistant Priest: Rev Vincent Cushnahan, CC
Sunday Masses: Sun M Vigil 6.30pm; 9.30am, 11.30am & 1pm.
Weekday Masses: 10.00am
Website: www.nativityparish.info/community.htm
| | |
| --- | --- |
| | |
| Interior of Church of the Nativity, Poleglass. | Church of the Nativity staff. L to R: Fr Patrick Sheehan PP, Fr Vincent Cushnahan CC, Martine Hanna (Office Secretary), Jim Gribbon (Sacristan), Martine McKernon (Housekeeper) and Artie McDade (Groundsman). |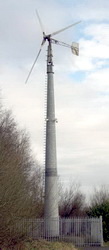 The wind turbine
THE WIND TURBINE
The wind turbine at the Church of the Nativity is used to generate electricity for the Parish Community Centre and the Church, with estimated savings of as much as £3,000 a year.
Brief history as recorded in a book 'Lisburn's Rich Church Heritage' by John Kelly
The parish of Poleglass was established in 1980 and Father Patrick McWilliams was appointed as its first parish priest. Four years later he opened a Mass Centre or temporary church, which became the Parish Centre, when the present church was opened in September 2004.
The Church is on the Bell Steele Road, Poleglass and the road (unfortunately misspelled) is named in memory of Miss Belle Steele. This eighteenth century Presbyterian lady lived in a cottage in the townland of Poleglass, on what is now know as the Stewartstown Road. Her place in history comes from her sympathy for the Catholic faithful who, under Penal Law, were denied their church buildings for worship. Belle Steel was the trusted custodian of the sacred vessels used in the Liturgy as well as a small horn used to summon the faithful to Mass.
The Rev Vincent Cushnahan was appointed Curate in July 2008 in succession to the Rev Eugene Lewis. The present Parish Priest, The Very Rev Patrick Sheehan, was appointed in October 2008 in succession to the Very Rev Austin McGirr.
For more information on the history of this church and an interesting slide show of the stained glass windows, the interior of the church, and various stages of construction of the building, click on: www.nativityparish.info/community.htm
18/02/2009