Craigmore Methodist Church
| | |
| --- | --- |
| | |
| Rev. Elizabeth Hewitt. | Craigmore Methodist Church, Aghalee, built in 1845 |
Orken Lane, Aghalee.
Minister: Rev. Elizabeth Hewitt.
Telephone: 9445 2494
Sunday services:
Sunday Morning: 10.30am
Web site: www.craigmore.org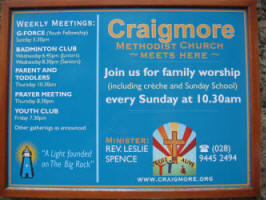 Notice Board
HISTORY
The Shillington family played a major role in the development of Craigmore Methodist Church. Thomas Shillington, who later went to Portadown to live, and Henry Shillington, who remained at 'Craig Villa' their ancestral home, both became Methodists. It was Henry Shillington who gave the land adjacent to the Shillington family home for the erection of Craigmore Church. At first, he had hoped to persuade the Earl of Hertford, through his clerical agent, to provide an appropriate site but had failed to do so. Built in 1845, the church was originally known as Aghagallon Wesleyan Chapel. The chapel was able to seat 250 people and the original seating was in the shape of forms. The pitch pine pews were a later addition.
On 17th September 1983 a new hall was opened and at a special service of praise on 2nd October 1993 an extension to the hall was dedicated.
The present minister, the Rev. Elizabeth Hewitt, previously minister of Moira and Megaberry commenced her ministry in Craigmore in July 2007 in succession to the Rev. Leslie Spence (1993-2007) who is now minister of Bluestone and Ballinacor in the Lurgan Circuit. Miss Hewitt has pastoral oversight of Craigmore, Glenavy, Moira and Maghaberry congregations.
A book compiled by Rea Clarke in 1995 gives a more detailed history of the church. To read the book online, click on: Craigmore Methodist church 1845-1995