Derriaghy Gospel Hall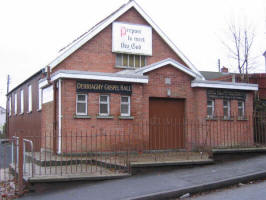 Derriaghy Gospel Hall,
built in 1923 and refurbished in 1966.

Derriaghy Road, Milltown, Derriaghy.
Gospel services and the day-to-day work of the Derriaghy Gospel Assembly are led by a group of overseers.
Lord's Day Services:
Breaking of Bread: 11.00am
Gospel Meeting: 7.00pm
Brief history as recorded in a book 'Lisburn's Rich Church Heritage' by John Kelly
Around 1905 a number of believers began to meet in the home of R M Watson for bible study. In 1920 Mr Stanley Buchanon and Mr John Hutchinson held a series of Gospel meetings and an Assembly was formed which for a short time met in Mr Watsons home. A new hall was built in 1923 and the Assembly then numbered about 40 members. The gospel has been preached faithfully from then and a good children's work has been maintained. For many years a gospel outreach and Sunday School was carried on at Porters Barn, Poleglass. Many heard the Gospel and trusted Christ as Saviour as a result. Another outreach commenced in Dunmurry in 1929 and resulted in the formation of an Assembly there in 1956. In 1966 the Derriaghy Gospel Hall was refurbished, a new front was added which included a foyer and toilets.