Dromore Baptist Church
| | |
| --- | --- |
| | |
| Jim Magill Pastor | Notice Board |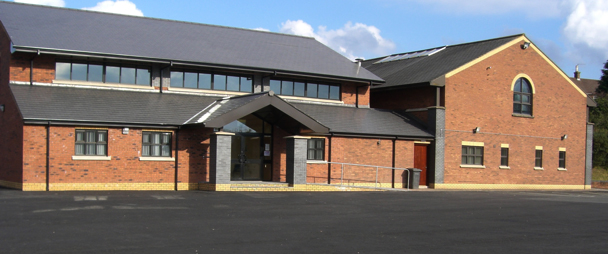 New hall and suite of rooms, opened October 2007
Maypole Hill, Dromore.
Pastor: Jim Magill
Telephone: 9269 3997
Lord's Day Services:
Morning: 11.30am
Evening: 6.30pm
Website: www.dromorebaptist.co.uk
HISTORY
In 1928, a few believers who were connected with a Mission Hall known as the Blue Room based in Church Street, became exercised about Baptism, and the Lord's Supper. They held a few Sunday morning meetings in the Mission Hall, but because it was interdenominational they were unable to continue. The group then met in a small house in Gallows Street for a short time. The Brethren approached the late Pastor F. H. Forbes (then Pastor of the Ballykeel Church) about starting a Baptist Church in Dromore and he willingly gave them help and advice. A room in Castle Street was rented from Mr. William Sturgeon who had a stitching factory. The room was converted into a hall seating about 80-100 people and under the guidance of Pastor Forbes the Church was formed in 1928 and the first Baptist meeting held.
The membership was increased and as the hall was leased for only five years, the Church decided to build a new Church. There was a site available in Mossvale but the Church neither had the money to buy the site or build the Church. A friend loaned the Church £100, which was sufficient to purchase the site, and in faith they went forward. The new Church building was opened on Christmas Day 1932. It cost £300 to build and in a few years the debt was cleared. The first pastor called to the Church was pastor Sam Jardine in 1936. In 1961, a new prayer room and kitchen were built, and the entire Church building was renovated. During the ministry of Mr. Noel McCullins, pews were added and during the faithful ministry of Mr. Allan Kerr (April 1974 to June 1983) the size of the congregation increased to such an extent that the partition, which separated the Prayer Room from the Church, had to be moved back to facilitate extra seating being added.
A special Church Business Meeting was held on 18th May 1986 and a decision was taken to look for a new site and erect a new Church building. After much difficulty in finding a site with sufficient car parking space, one was located on Maypole Hill. As four different people owned the site, many problems emerged. After much prayer and time, every obstacle was removed. Work began in September 1992 and the present church was opened on Sunday 8th October 1994. Pastor Jim Magill commenced his ministry here in June 1998.
Early in 2006, work commenced on a new hall and suite of rooms at the rear of the church and the new Building was officially opened to the Glory of our Lord on Sunday evening, 14th October 2007 by Pastor Jim Magill; Moyra Coulter officiated by cutting the ribbon.
For a full history of the church, written by Mr. Bobbie Baxter, click on: www.dromorebaptist.co.uk