Dromore Elim Pentecostal Church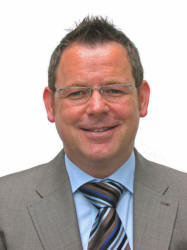 Pastor Steven Neill
Dromore Elim Pentecostal Church
Bridge Street, Dromore.
Pastor: Steven Neill
Telephone: 02892698759
Sunday Services:
Morning Worship: 11.00am
Evening Celebration: 6.30pm
| | |
| --- | --- |
| | |
| Dromore Elim Pentecostal Church. | Elim Care Shop |
HISTORY
The history of Pentecostalism at Dromore can be traced through the following three separate Pentecostal fellowships dating back to 1930.
Apostolic Church
Little is known of the first Pentecostal fellowship at Dromore except to say that it was in existence in 1930 when they met for worship in a wooden building at the Mill Turn called the Glad Tidings Mission Hall. The fellowship was still in existence in 1945 when the hall was called the Apostolic Church. In the late 1940s or early 1950s, Tommy McCullough bought the hall and converted part of it into a dwelling house and the other part into a garage.
Assemblies of God
In January 1959 evangelist Frank Bray conducted a mission in a portable hall on land belonging to John Boston, at Skeogh. Following this mission, the first Assemblies of God fellowship outside of Belfast, was established in May 1959, meeting for worship in Tommy McCullough's garage re-fitted for the purpose (Tommy McCullough continued to live in part of the building). Some members of the original fellowship attended these meetings.
A new corrugated iron building, which replaced the old mission hall, was opened on Saturday 3rd December 1960 by Mrs Miskimmons (from Ballaney) and was followed by a mission conducted by 21-year-old evangelist Leslie Hale. Meetings were held there until about 1968/69. The elders were: Tommy Rowan, William Mulligan, John Boston, Tom Scott, David Baxter, Bob McIlrath and Jack Greer. The hall was demolished in about 1983 and a bungalow built on the site.
Elim Pentecostal Church
The present church in Bridge Street was formed in April 1988 out of a house group from Hillsborough Elim and first met for worship on the top floor of the building led by Noel Mills, who was formerly assistant at Hillsborough Elim. The building was used by the Dromore Christian Workers Union, prior to the opening of the present CWU Hall at Meeting Street in November 1953. In October 2000, the Elim congregation moved to the bottom floor of the building and the top floor is now used by Dromore Youth for Christ as a drop-in centre called 'The Base' for youth people.
The first , Noel Mills was succeeded in turn by s Keith Wilson, Gary Beattie and Paul Dunn. The present , Steven Neill, was inducted here in September 2005. In October 2005 the Elim Care Shop was opened at 22 Bridge Street and at Easter 2006 the Oasis Coffee Shop was opened in the church building. Profits from both shops are used mainly to support overseas missionary work.
The histories of the two earlier Pentecostal fellowships were compiled with the assistance of Leila Malcomson (nee Mulligan) and Tom Scott. The history of the present church was compiled with the assistance of John Bailey, Uel Dickson and Ian Rumsey.
For further history, click on: New at Dromore Elim Pentecostal Church 08/09/05
For a short article about the 1930's - 1960's Pentecostal Meetings at the Mills Dromore click on: Gospel meetings and Sunday Schools around Ashfield and Dromore 1950/60's. By: John A. Kelly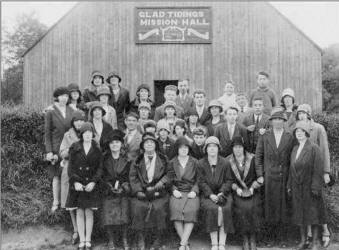 Pictured at The Glad Tidings Mission Hall at the Mills, Dromore in about 1930 are L to R:  (front row) Maisie Jackson, Mrs. Magill, Miss Morrell – Missionary, Miss Hearsey, Mrs. Thomas, Mrs. Hunter, Mrs. Miskimmons and Miss Lilley.  (second row)  Barbara Ireland, Ena Purdy, Sammy Lunn, Minnie Beggs, Madge Miskimmons, Tina Jackson, Willie Purdy, Bobby Baxter, Sam Miskimmons, Evelyn Harvey and Mary Emily Harvey.  (third row)  Aggie Harvey, Maggie Harvey, Miss Kilpatrick, Maggie Hunter, Minnie McDowell, Mrs. Morrison, Mrs. Taylor and John Beggs.  (fourth row)  Ella Gibson, May Purdy, Mrs. McGrath, Sam Black, Billy Marshall, Tommy Kerr, Wilfie Taylor and Billy Hunter.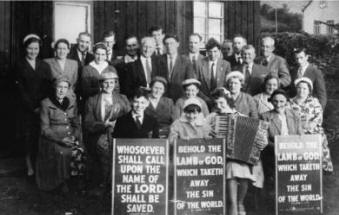 Pictured at the Assemblies of God Mission Hall in 1959 are L to R: (seated - front row) David Graham, Miss Cherry, Miss Gwen Cherry (with accordion) and Annie Kerr. (seated - second row) Mrs Bailie, Mrs Miskimmons, Mrs Lowry, Mrs Graham, Elizabeth Mulligan, Mrs Cherry and Mrs Murray. (standing) Mary McIlrath, Violet Lowry, David Graham, Leila Mulligan, Tom Scott, Sandy Miskimmons, Bob McIlrath, Will Malcomson, William Mulligan, Tommy Rowan, Aubrey Malcomson, David Murray, Mr Rogers, John Boston, Tommy McCullough and Eddie Hughes. (Thompson's garage can be seen in the right hand side of the picture).