Dromore Free Presbyterian Church
Rev. Ian Kenny Minister
Dromore Free Presbyterian Church,
opened in September 1992.
Quillyburn, Banbridge Road, Dromore.
Minister: Rev. Ian Kenny
Telephone: 9269 2974
Lord's Day Services:
Morning Worship: 11.30am
Gospel Service: 7.00pm
Church web site: Free Presbyterian Church - Dromore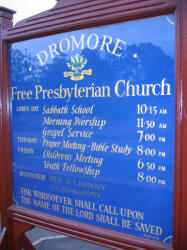 Notice Board
HISTORY
The first ever trace of a Free Presbyterian witness in Dromore was a Gospel Meeting conducted by Dr John Douglas who was then the minister of Moneyslane Free Presbyterian Church. This tent Mission, which lasted five weeks, took place in a field on Barban Hill in August 1969. In May 1975, an outreach work commenced in the town under the auspices of Banbridge Free Presbyterian Church. This was the result of a very successful Gospel Mission conducted by the Rev Fred Buick, who ministered in Banbridge at that time. Local believers continued the witness and on Sunday 6th July 1975 at 3.30pm the Dromore witness was founded when meetings commenced in the British Legion Hall in Princess Street, their home for the next four years and three months. On 22nd September 1979, a portable building erected at the Millturn, on the Banbridge Road, was opened by the Moderator, the Rev Dr Ian Paisley. This hall was to become the home of the Free Presbyterian Church in Dromore for some fourteen years and four months. In June 1980, the Rev David Priestly was placed in charge and later became the first ordained minister of the congregation. On Sunday 19th September 1982, Mr Aubrey Malcolmson, Mr Robert Skelton and Mr Irvine Dawson were ordained as the first elders. In 1991 agreement was reached with a landowner for the purchase of a one-acre site at Quillyburn. Although the area was zoned for industrial development permission was finally granted to build a church on the site. On Saturday 2nd October 1993, a stone laying ceremony was conducted with the Rev Dr Ian Paisley being the preacher. The Rev Fred Buick was installed in December 1993 and the present church was opened on Saturday 29th January 1994. Mr Buick concluded his ministry at Dromore in March 1995 and returned to Australia. The present minister, the Rev Ian Kenny, was installed in November 1996.
A book compiled by the Rev Ian Kenny gives a more detailed history of the church. To read the book online, click on: Dromore Free Presbyterian Church 25th Anniversary 1969-2004