Dromore Reformed Presbyterian Church
| | |
| --- | --- |
| | |
| Rev. David McCullough Minister | Dromore Reformed Presbyterian Church. |
14 Brewery Lane, Dromore.
Minister: Rev. David McCullough
Telephone: 9269 0155
Sabbath services:
Morning Worship: 11.30am
Evening Worship: 7.00pm
Website: www.dromorerpc.org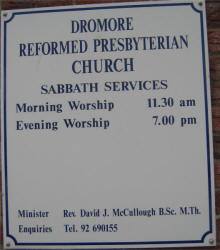 Notice Board
HISTORY
The Reformed Presbyterian Church has had a witness in the Dromore area since 1772. A congregation was established in the town in 1812 and was ministered to by the Rev. John Stewart who was also at the same time minister of the Rathfriland congregation. In 1837 the congregation received their own minister, James Steen. After only one year he resigned from the congregation and the Reformed Presbyterian Church and joined the Presbyterian Church. Although faithful elders and members sought to maintain the work and witness of the congregation it was, with declining numbers, reduced to the status of a preaching station. Between 1840-1898 it was cared for by the Bailiesmills congregation and from 1998 - 1990 was overseen by the Dromara session. In the 1980s, with dwindling attendances and an increasingly derelict building, many thought that Dromore was suffering from the advanced stage of terminal decline. Some had concluded that the door should be closed and the building sold. However, the small nucleus in Dromore had a different vision. They believed that under God the work could be revived and rebuilt. Steps were taken by the Eastern Presbytery to implement this vision under the leadership of Rev. Prof. Robert McCollum (minister of the Lisburn congregation) and an interim session including Rev. J. A. Hawthorne, Mr. John Bond and Mr. John Sommerville. Regular evening services were commenced in May 1991. By May 1994 the Eastern Presbytery, sufficiently encouraged by growing numbers, established both morning and evening services. At this stage Rev. Prof. McCollum conducted morning worship in Dromore before conducting morning worship in Lisburn. With growing numbers attending the services and the redevelopment of the church building site a new meetinghouse was built and opened on Friday 19th May 1995. In September 1995 a retired minister, the late Rev. Prof. Fredrick S. Leahy took on responsibility for supplying the pulpit both morning and evening. Under his faithful preaching the nucleus continued to grow. It was this ministry that was to set the firm foundation of all that would follow. Early in 2003 the growing nucleus under the care of the Eastern Presbytery called Rev. David McCullough to be the organising minister of the expanding work.
For a full history visit the church website: www.dromorerpc.org