Dundrod Presbyterian Church
Dundrod Presbyterian Church, built in 1827.
Leathemstown Road, Dundrod.
Minister: Rev.
Rev Paul Dalzell, minister of Hydepark and Lylehill,
is in charge of the vacancy. Telephone:
Sunday services:
Morning: 11.30am
Presbyterian Church in Ireland Website: www.presbyterianireland.org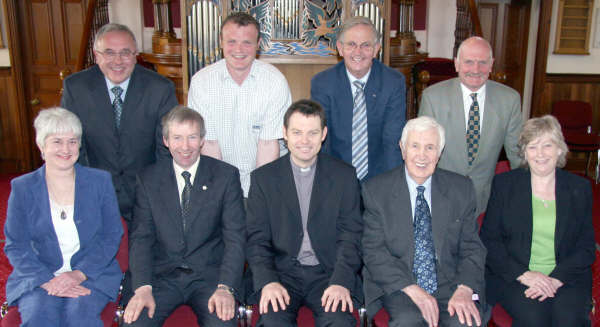 Dundrod Presbyterian Church elders pictured in April 2009. L to R: (seated) Joy Jamieson, William McClure (Clerk of Session), Rev Paul Dalzell, Jack Morris and Muriel McCartney. (back row) Ivan Calvert, Ian Craig, Richard Bingham and Thomas McCullough.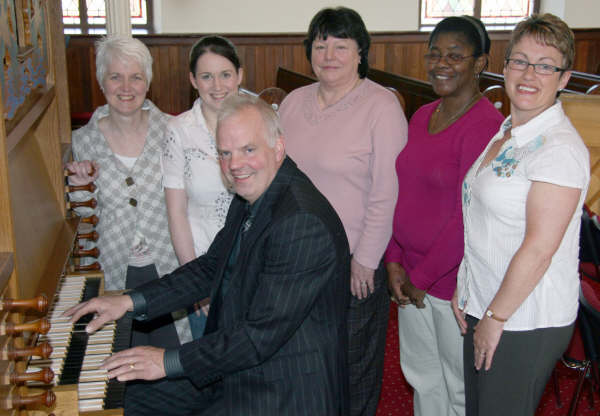 Choirmaster Louis Irvine (seated at organ) pictured in April 2009 with Dundrod Presbyterian Church Choir members L to R: Alison McClure, Barbara McClure, Patricia Calvert, Veronica Grant and Linda McCullough.
| | |
| --- | --- |
| | |
| Notice Board | Stone Tablet at Dundrod Presbyterian Church. |
HISTORY
Presbyterians first began to meet together here in 1827 and the first minister was Mr. William Loughridge (lic. Ballymena). He was ordained on 2nd March 1829 but suspended sine die on 6th November 1837. He resigned the charge in July 1838 and emigrated to U.S.A. where he was installed on 7th November 1840 in the 4th Presbyterian congregation of Philadelphia on 7th November 1840. He died on 11th November 1846. He was followed by Mr. William Magill (lic. Belfast) who was ordained on 14th January 1840 and had a long ministry before he retired on 1stFebruary 1876 and died on 11th March 1880. Mr. Magill's successor did not stay so long. Mr. John Clarke (lic. Belfast) was ordained on 16th May 1876 and resigned on 26th June 1879.
The Rev. John McConnell, minister of Magherafelt (Union Road) followed with another short ministry; installed on 22nd June 1880 he resigned on 14th February 1884 and emigrated to Australia (Footscray Church, Melbourne). The fifth minister was Rev. Robert McBride of 2nd Monaghan (Ballyalbany) who was installed on 17th April 1884. He died in this charge on 1stApril 1900.
He was followed by Mr. James Little (lic. Banbridge) who was ordained on 20th September 1900. He resigned on 15th September 1910 when called to Dumbarton (Knoxland Church), and he later returned to Castlereagh and became prominent in public and political life. His successor here, Mr. David Sloane Corkey (lic. Glendermott) was a man greatly beloved and his passing greatly mourned. He was ordained on 28th February 1911 and died on 14th October 1924.
Mr. David McKinney (lic. Raphoe) was ordained on 5th March 1925 and had a long and esteemed ministry until his retirement on 31stDecember 1967. He was followed by Rev. Robert Derek Drysdale (lic. Belfast) who had been ordained as assistant in Hamilton Road, Bangor. He was installed here on 27th June 1968 and resigned on 6th April 1976 when called to McQuiston Memorial Church, Belfast. He was succeeded by Rev. Kenneth Orr Lynch (lic. Omagh 1974) who had been ordained (12th January 1975) assistant in Cregagh. He was installed here on 10th March 1977.
The Rev. Isaac Thompson, previously assistant in Ebrington, Londonderry, was installed here in 1985 and in 1994 he accepted a call to First Cookstown. Mr. Thompson was followed by the Rev. John Brackenridge, previously Associate Minister in Knock. Mr. Brackenridge was installed here in 1995 and during his ministry a new suite of halls was built in 2002. Mr. Brackenridge accepted a call to First Lisburn in November 2002.
The Rev Angus Stewart, previously assistant and later Associate in McQuiston Memorial, was installed here on Friday 12th September 2003. He moved to Whiteabbey Presbyterian Church in February 2009 and the Rev Paul Dalzell, minister of Hydepark and Lylehill, is in charge of the vacancy.
During Mr Stewart's ministry, refurbishment work on the Meeting House included the installation of a new floor, sub floor, damp proofing, drainage, heating, wood panelling, audio visual system and remodelling of the front of the church including a new dais. Work commenced in May 2006 and the church was opened and re-dedicated by the Rt Rev Dr David Clarke, Moderator of the General Assembly on Sunday 19th November 2006.