Church of God, Dunmurry
Church of God, Dunmurry.
Refurbishment and enlargement of a small hall on this site was completed in May 2000
The Praise Team at the Church of God, Dunmurry. L to R: Robert Newberry, Helen Marks, Joanne Murdock, Jean Spencer, David Spencer, Pastor David Spence and Tracey Newberry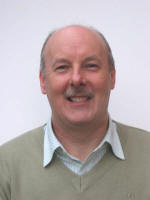 David Spence Pastor
Glenburn Road, Dunmurry.
Pastor: David Spence
Telephone: 9048 4154
Sunday Services:
Morning: 11.00am
Evening: 6.30pm
Brief history as recorded in a book 'Lisburn's Rich Church Heritage' by John Kelly
The early congregation was formed in 1955 and met for worship in Hunter Street, off Sandy Row, Belfast. From about 1980, meetings were held in a room above a bakery in Malborough Park, off the Lisburn Road, Belfast.
In 1979, the congregation purchased a small hall on the site of the present church on Glenburn Road, Dunmurry. The hall was formerly the meetinghouse for Dunmurry Free Presbyterian congregation who outgrew the building and moved to a new church at Seymour Hill in September 1978.
The hall on Glenburn Road was refurbished and enlarged. The church was completed in May 2000, taking its name 'Church of God' from the names of churches as recorded in the New Testament.
The architect's estimate for the building work was £250,000, but with work carried out by the Pastor and members of the congregation, the actual cost was £100,000.
The present Pastor, David Spence, was installed here in May 1992.