Elmwood Presbyterian Church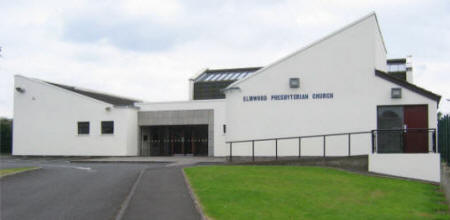 Elmwood Presbyterian Church, opened in January 1977.
Rev. Andrew Thompson
Minister
Rev. Bob Lockhart
Minister Emeritus
Glenavy Road, Ballymacash, Lisburn.
Minister: Rev. Andrew Thompson
Telephone: 9267 5579
Minister Emeritus: Rev. Bob Lockhart
Sunday services:
Morning: 11.30am
Evening: 6.30pm
July and August: 10.30am and 7.00pm
Presbyterian Church in Ireland Website: www.presbyterianireland.org
Church website: Elmwood Presbyterian Church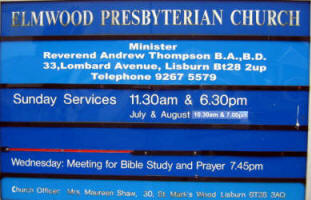 Elmwood Presbyterian Church Noticeboard
HISTORY
No town in Northern Ireland grew more quickly in the 1960s than did Lisburn, and after one congregation had been carved out of the Railway Street parish area, St. Columba's, it was clear another should come as well. The Antrim-Glenavy Road area of Ballymacash became the site of this new cause. The first stone of the new building was laid early in 1976 and the Rev. Robert Lockhart (lic. Ards 1974) who had been ordained (12th January 1975) assistant in Knock congregation Belfast, was installed as the first minister at a service in Railway Street Presbyterian Church on Sunday 2nd May 1976. By the end of 1979, 280 families had joined the congregation.
The church building was opened on 22nd January 1977 by the Rt. Rev. Dr. A. J. Weir, Moderator of the General Assembly. A new organ was provided in September 1979 and on 26th September 1981 a fine new suite of halls was opened by Rev. Howard Cromie, Church Extension Convener.
When this church was established it received the name and several important furnishings of the former Elmwood Church, Belfast. The Communion Table and vessels, the Lectern, the Pulpit, Bible and other items were given to the new cause in Lisburn in 1976. Mr. Lockhart retired in April 2003 and is now the Minister Emeritus in Elmwood. In September 2003 he was appointed Pastoral Assistant at Railway Street, Lisburn.
The present minister, the Rev. Andrew Jonathan Thompson, previously in Craigavon and Vinecash, was installed in Elmwood on Monday 14th June 2004.