Lisburn Free Presbyterian Church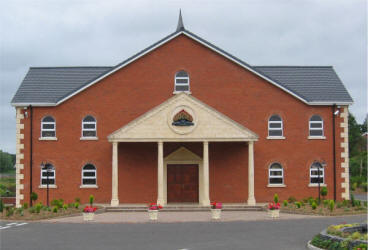 Lisburn Free Presbyterian Church, opened in October 1972.
| | |
| --- | --- |
| | |
| Rev. Thomas Martin Minister | Dr. John Douglas Senior Minister |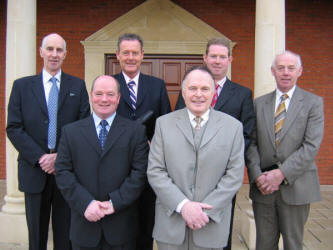 Lisburn Free Presbyterian Church ministers and elders. L to R: (front) Rev. Thomas Martin - Minister, Dr. John Douglas - Senior Minister. (back row) Elders: Samuel Norton, Eric Graham - Clerk of Session, Noel Thompson and Samuel Collins. Missing from the photo: Danny Mannagh and James Anderson.
Windmere Road (off Knockmore Road), Lisburn.
Minister: Rev. Thomas Martin
Telephone: 9266 0786
Senior Minister: Dr. John Douglas
Lord's Day Services:
Morning Worship: 11.30am
Evening Worship: 7.00pm
Website: Free Presbyterian Church - Lisburn
Brief history as recorded in a book 'Lisburn's Rich Church Heritage' by John Kelly
Lisburn Free Presbyterian Church came into being after a Gospel Tent Mission conducted by the Rev. Ian Paisley and the Rev. William Beattie in June 1968. The large tent remained in position throughout the summer months with just an after Church rally being held in it. A portable hall was erected and opened for public worship in August 1968 and constituted on Saturday 12th October 1968. As the congregation grew there was a need for larger premises and the new church was opened on 21st October 1972.
Thomas Martin was brought up in difficult circumstances in Lurgan, in very turbulent days. He joined a proscribed organisation, was arrested, charged and sentenced to a lengthy prison term. It was in one of the most unlikely places, on the 'non conforming protest' in the Maze Prison that he was brought under deep conviction of sin and brought to know Jesus Christ as his own and personal Saviour. After his release from prison he trained for the ministry and was ordained and installed as co-pastor of Lisburn Free Presbyterian Church on Monday 7th December 1998.