Ballygowan Mission Hall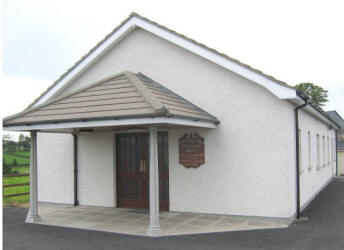 Ballygowan Mission Hall, Dromore, built in 1993.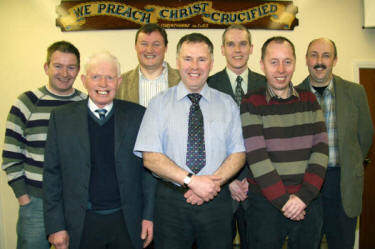 Ballygowan Mission Hall leaders L to R: (front row) Jim Moorhead, Gordon Martin and John Hobson. (back row) Stephen Shanks (Treasurer), Philip Osborne, Stephen Gamble and Brian Poots.
Listullycurran Road, Dromore.
Leader: Gordon Martin
Telephone: 9269 2950
Gospel Services:
Saturday evenings: 8.00pm
Web site: www.gatherfortheword.com
HISTORY
The first hall was built in 1947 by the Coulter family on land donated by the Mitchell family at the junction of the Greenogue and Listullycurran Road when Sunday night meetings were held. Mr Joe Coulter was concerned for the spiritual wellbeing of the children in the surrounding area and hence a Sunday afternoon Bible Club was started. In January 1989 a Saturday night fellowship meeting started called 'The Word Bible Club Class'. The name ' W.O.R.D.' was chosen because the object is to meet around the Word of God - each letter represents the following: Witness of Christ which we proclaim; Outreach into all places which we undertake; Redemption by the blood which we preach; Disciples which we seek to be. By late 1991 the meeting had grown to such an extent that the hall could no longer comfortably accommodate those in attendance. The committee undertook to build a new and larger hall on land generously donated by James Moorhead. The work of erecting the building progressed throughout the summer of 1992 and the new hall, paid for within three years, was opened with a gospel mission in September 1992 with Sidney Murray as the evangelist.