Tansy Mission Hall, Upper Ballinderry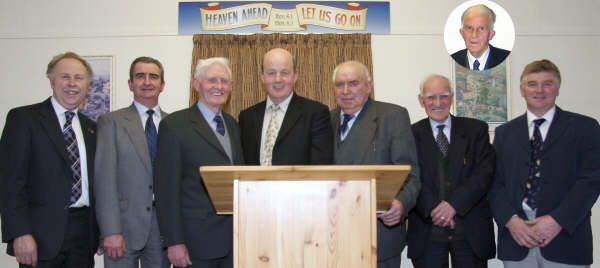 Pictured in March 2009 are Tansy Mission Hall committee members L to R: David Elwood (Secretary), Cecil Crangle, Edward Thompson (Treasurer), Mervyn Camlin, Harper Kirkpatrick, Albert Harris, Fred Collins (Chairman) and James McLernon (inset).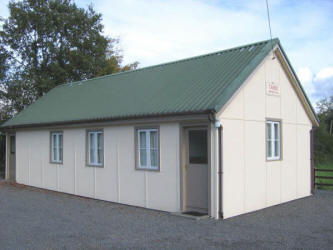 Tansy Mission Hall, Upper Ballinderry.

Tansy Road, Upper Ballinderry.
Fred Collins (Telephone: 9264 8364)
Albert Harris (Telephone: 9265 1541
Gospel service: Sunday at 8.15pm
Brief history as recorded in a book 'Lisburn's Rich Church Heritage' by John Kelly
Tansy Sunday School was founded in 1930. Run by Mr McKnight, it was held in a barn at William Montgomery's farm about 250 yards from the present hall. However, as Mr Montgomery needed the use of the barn he got in touch with the Rev Thomas Rodgers, minister of Magheragall Presbyterian Church and purchased and erected half of a wooden WW1 army hut to act as one of three outstations to convenience members who could not travel to Magheragall Church. The other two outstations were at Knocknadona and Mullaghcarton. The Tansy hut was erected on the present site, which was donated by Mr William Montgomery. In 1954, the old army hut was replaced by the present building. Mr Willie Collins assisted by his wife and other helpers, carried on the work at the Tansy Sunday School. He soon became interested in missionary work and, with the help of other friends, commenced a weekly prayer meeting and Sunday night meeting. When Mr Collins died in 1973 committee members continued to organise the meetings.

Between 2004 and 2007 extensive renovation work was carried out at the hall. This included new windows, doors and external and internal refurbishment of the building. This work was done voluntarily by committee members and friends to make a pleasant mission hall for the worship of God, the preaching of the gospel and support of missionary work.