Moira Baptist Church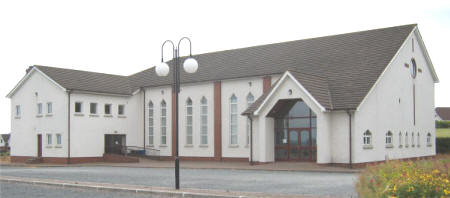 Moira Baptist Church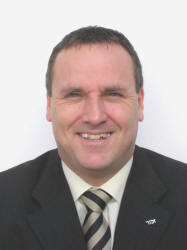 Pastor: Richard Garnham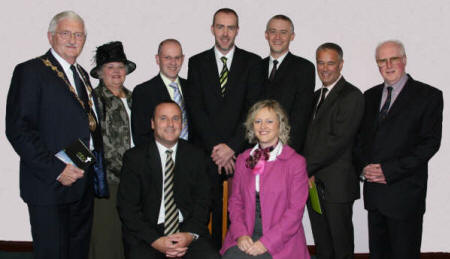 Pastor Richard Garnham pictured at his Service of Induction in Moira Baptist Church on Friday 12th September with his wife Elaine and L to R (back row) Councillor Ronnie Crawford (Lisburn Mayor), Mrs Jean Crawford (Mayoress), Dr Sam Gordon (Guest Preacher) and elders Mr Andy Lilburn, Mr Peter Smyth, Mr Maynard Mawhinney and Mr Adrian Patterson.
Clarehill Road, Moira.
Sunday services:
Morning: 11.00am
Evening: 6.30pm
Website: www.moirabaptist.org
Brief history as recorded in a book 'Lisburn's Rich Church Heritage' by John Kelly
Moira Baptist Church came into being through a Baptist Missions Evangelism team. With the encouragement of local Baptists, a tent mission was conducted in Moira Demesne in the summer of 1986 and a home was opened for prayer and Bible study. By October the Moira Baptist Fellowship was founded and meetings commenced in a local hall. In January 1987, the church was formed with twelve members, a three-acre site on Clarehill Road was purchased and the first pastor, Jonathan Watson, began his ministry. In 1989 the church services moved to a portable hall on the new site. Two years later, the Baptist Housing Association purchased part of the site and a sheltered dwelling scheme called Henry Court was opened to residents in 1993. The present church building was completed in several phases, with the main structure commencing in 1994. The congregation met in the new church hall from April 1995, when their second pastor, David McFarland, was inducted and the sanctuary was opened in October 1997. Pastor David McFarland stood down due to ill health in 2003. Because of the enormous growth of its youth ministry, the church constructed an extension to its church hall in 2007. The present pastor, Richard Garnham, previously of Carr Baptist Church, was inducted on 12th September 2008.
For a further history of the Moira Baptist Church, click on: www.moirabaptist.org