Priesthill (Zion) Methodist Church
Rev Colin Gracie
Minister
Priesthill (Zion) Methodist Church (left)
and Church Hall.
Kesh Road, Lisburn.
Minister: Rev Colin Gracie
Telephone: 9269 3929
Sunday services:
Morning Worship: 11.00am
Evening Worship: 6.30pm
Web site: www.priesthill-zion-methodist.com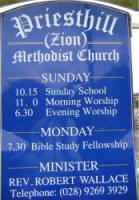 Notice Board
HISTORY
The first Priesthill Methodist Chapel was built in 1786. It was one of mud and roofed with straw, and seems to have stood somewhere on the Puddledock Road. It was used till 1838 when a better site was chosen and a new edifice erected where the present Zion stands. The Church was enlarged in 1851 and a new hall was added in 1974.
The present minister, the Rev Colin Gracie, previously minister of Birr, Athlone and Tullyamore Methodist Church commenced his ministry at Dromore and Priesthill on Sunday 13th July 2008. He succeeds the Rev Robert Wallace who retired from active work and now lives in Lisburn. A thanksgiving service for Mr Wallace was held in Priesthill Methodist Church on Sunday evening 22nd June.