Quilly Gospel Meetings, Dromore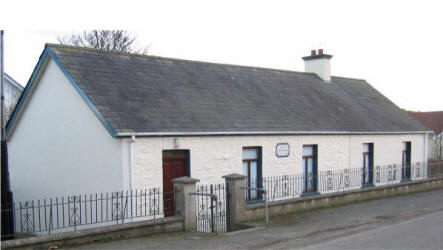 Quilly Orange Hall, Dromore.
Quilly Orange Hall, Rowanhill Road, Dromore.
Robert and Isobel Jackson and a team of leaders arrange guest speakers.
Telephone: 9269 2027
Midweek Gospel Meetings: Wednesday at 8.00pm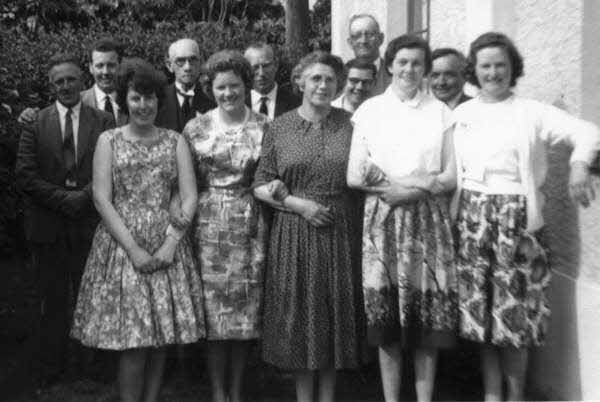 Quilly Sunday school teachers pictured at St John's Hall, Newcastle during the annual Sunday school outing on Saturday 8th June 1963.
L to R: (back row) Bob Beggs, Jim Beggs, Willie Poots (superintendent), Sam Thompson, George McKee, Willie Thompson and Bertie Black.
(front row) Irene Campbell (nee Wilkinson), Nan McCaw, Minnie Kelly, Ellen Beggs and Minnie Clegg. Missing is Isobel Jackson (nee Beggs) who took the photo, Elizabeth Beggs and Rosemary Allen (organist).
HISTORY Quilly afternoon Sunday School
Willie Poots, Willie Thompson, Bob Beggs and Mrs Ellen Beggs founded Quilly Sunday school in 1949. The first superintendent was Willie Poots. An ex-serviceman, it is reported that during the First World War, he was carried off the battlefield for dead, but made a remarkable recovery. Willie lived close to the hall and his many duties included lighting the Tilley lamps, the pot-bellied stove and the open fire prior to the meetings. Mrs Beggs can remember arriving for meetings some evenings with the hall almost completely filled with smoke from the fires. Willie, who always maintained his military presence, took a personal interest in the children and also took great pride in choosing the Sunday school prizes, which were kept in his house prior to the annual prizegiving. Vera Watson (nee Kelly) a former member of the Sunday school can recall being invited into his house on the way home from Tullymacarette Primary School to see the prizes he had so carefully chosen.
When Willie Poots died, he was succeeded by Willie Thompson. A most generous man, Willie Thompson paid for the installation of electricity at Quilly and is also remembered for buying all the children an ice cream at the annual excursion to Newcastle. The teachers in 1963 were: Bob Beggs, Ellen Beggs, Isobel Jackson (nee Beggs), Jim Beggs, Elizabeth Beggs, Sam Thompson, George McKee, Bertie Black, Irene Campbell (nee Wilkinson), Nan McCaw, Minnie Kelly, Minnie Clegg and Rosemary Allen.
Two important events in the Sunday school calendar were the scripture examination and the annual social. The examination involved learning a passage of Scripture and reciting it to an examiner, one of the teachers. Some of the young children tried to be strategically placed in the queue so that Bob Beggs would be their examiner. Bob was a very kindly Christian man and it was generally felt that he would be more lenient than most in marking.
The annual social was held on a Friday evening and included the distribution of prizes and a children's concert involving most, if not all, children taking an active part in some way or another, whether reciting a poem, singing a solo, duet, or with a group of singers. The first Quilly Sunday School Social was held on Friday 23rd December 1949 when the young people presented the following programme: opening recitation by Anna Martin; choir - 'I am so glad'; solo by Phyllis McCready; choruses by the Junior Choir; duet by Phyllis McCready and Isobel McCandless, solo by Marjorie Kelly; organ recital by Margaret Hull; choir -'Jesus loves me'; recitation by Sadie Poots; trio - Phyllis McCready, Isobel McCandless and June Orr; recitation by Isobel Beggs; choir - 'While Shepherds watched'; solo by Isobel Beggs; recitation by Vera Kelly; choir - 'Once in royal David's city'; solo by Isobel McCandless; choir - 'O come all ye faithful'. At an interval, Mrs Rosemary Allen presented a Bible suitably inscribed to Isobel McCandless, who had trained the children and Isobel gracefully acknowledged the gift. During the evening the superintendent, the late Mr W. J. Poots, read a poem entitled 'Quilly Sunday School' that he had written for this historic occasion. The programme was followed by a delightful supper served by the teachers.
When Bob Beggs died in 1975 at just 61 years of age, his son-in-law Robert Jackson took his senior class. Robert, who has been a teacher since 1967, was appointed superintendent at Quilly and the teachers were his wife Mrs Isobel Jackson and Isobel's mother, Mrs Ellen Beggs. Mrs Rosemary Allen has been the organist at Quilly since 1949 and can clearly recall the old pedal organ, which has been replaced with a modern electric one. Although she now spends the winter months in Spain, Mrs Allen still plays the organ when available. Due to dwindling numbers the Sunday School closed in December 2007 and Mrs Ellen Beggs, who gave 59 years devoted and exemplary Christian leadership at Quilly died on Monday 5th January 2009.
In preparing this article, John Kelly visited Quilly Sunday school on Sunday afternoon 17th December 2006 and thoroughly enjoyed listened to the singing of well-known choruses introduced by Robert Jackson (superintendent) and accompanied on the organ by Mrs Rosemary Allen. At John's special request they sang the following chorus, which Mrs Beggs says is one of the favourites at Quilly.
'Passing through Quilly, calling today'
Jesus is present, Wonderful Jesus,
Passing through Quilly, calling today.
Mighty to save, to cleanse, and deliver.
Wonderful Jesus, coming your way.
Bring Him your sins, and bring him your sorrows.
Precious the Blood that can make you free.
Trust Him today, – for every tomorrow.
Wonderful Jesus. Calling for thee.
HISTORY – Quilly Gospel meetings
A six-week gospel mission conducted by Mr Lynas was held in Quilly Orange Hall in February/March 1954 and when it ended, gospel meetings were held in the hall every Wednesday evening and have continued ever since. The meetings were well attended and Bob and Ellen Beggs organised the various guest speakers each week. Bob Beggs died in 1975 at just 61 years of age and Ellen died in January 2009, 89 years of age; their son in law Robert Jackson, daughter Isobel and a team of leaders now arrange guest speakers. Meetings, which were temporarily suspended in December 2008, will recommence in May 2009.
For a more detailed history of Children's Meetings and Gospel Meetings at Quilly, click on: Gospel meetings and Sunday Schools around Ashfield and Dromore 1950/60's. By: John A. Kelly The poem entitled 'Quilly Sunday School' written by the late Mr W. J. Poots for the first Quilly Social in 1949, can be read online by following this link.