Railway Street Presbyterian Church War Memorials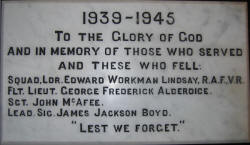 The war memorial tablet in the vestibule (right hand side) showing the names of the four members of Railway Street congregation killed during the 1939-1945 war was unveiled 50 years ago at the Armistice Day Service on 6th November 1955 by Mrs. D. C. Lindsay whose son Edward was one of the four that fell.
Names and ranks of the four that fell are:
Squadron Leader Edward Workman Lindsay, R.A.F., V.R.
Flight Lieutenant George Frederick Alderdice.
Sergeant John McAfee.
Leading Signalman James Jackson Boyd.
The Great War, 1914 to 1919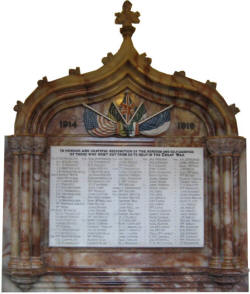 Memorial Tablet
On Sunday 18th April 1920 a service was held for the Dedication of a Memorial Tablet to the 134 men of Railway Street congregation who went forth to fight for us; and a Memorial Window to twenty-one men who laid down their lives in the Great War, 1914 to 1919.
Immediately before the service began, the Right Rev. Dr. John M. Simms, Moderator of the General Assembly unveiled the Memorial Tablet; and during the service, Mr. J. Milne Barbour unveiled the Memorial Window in memory of twenty-one men from Railway Street congregation who laid down their lives in the Great War, 1914 to 1919.
| | |
| --- | --- |
| | |
| Memorial Window | Names on Memorial Window |
They are: John Bell, James Braithwaite, Robert Cathcart, Thomas Cathcart, William Cunningham, Quinton Dunlop, John Hillis, Philip R Keightley, George King, James Lennox, William Lewis, Matthew Lyness, Isaac McNair, Alexander Maginiss, Douglas Morrison, Francis Neagle, Thomas H. Philpot, John Ramsey, John Ramsey, Robert S. Rogan, James Skelly and William Skelly.
The inscription on the memorial window reads:
"Be thou faithful unto death and I will give thee a Crown of Life."
TO THE GLORY OF GOD AND IN GRATEFUL MEMORY OF THOSE FROM
THIS CONGREGATION WHO LAID DOWN THEIR LIVES IN THE GREAT WAR
---
Memorial window in memory of Johnston Hunter Thompson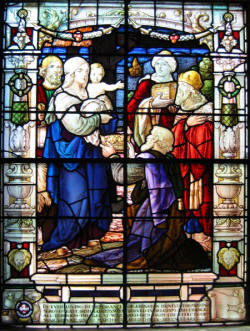 Memorial window in memory of
Johnston Hunter Thompson
A few years after the Memorial Tablet and Window was erected, a second Memorial Window was erected in remembrance of Johnston Hunter Thompson, Sergeant, 1stBattalion Irish Guards, who served in Belgium and France all through the Great War and died from the effects of war service on 9th March 1921, aged thirty seven years.
The inscription on the window reads:
IN EVER LOVING REMEMBRANCE OF JOHNSTON HUNTER THOMPSON
SEGT 1stBATT. IRISH GUARDS; WHO SERVED IN BELGIUM & FRANCE
ALL THROUGH THE GREAT WAR AND DIED FROM THE EFFECTS OF
WAR SERVICE ON 9TH MARCH 1921 AGED THIRTY-SEVEN YEARS.
---
INSCRIPTION ON MARBLE TABLET IN VESTIBULE
IN HONOUR AND GRATEFUL RECOGNITION OF THE HEROISM
AND SELF-SACRIFICE OF THOSE WHO WENT OUT FROM US
TO HELP IN THE GREAT WAR.
Captain E. S. B. Hamilton,
M.C. M.B. F.R. C.S.E.
" P. C. R. Keightly
" J. L. Rentoul, M.B.
" J. B. Alexander, M.B.

Lieutenant A. Ernest Boyd
" John Boyd, M.B.
" J. C. Carson, M.B.
" M. F. Keightly
" R. P. MacGregor, M.C.
" D. St. G. Morrison, B.A.
" D. R. Taylor, B.A. M.B.
" S. B. Wallace
" C. A. Whitfield, M.B.
" William Whitfield, M.B. R.N.
" William Weir.

2nd Lieutenant Robert Bowman
" David Fullerton
" Gordon Harvey
" H. G. R. Hunter
" Samuel Innes
" William Magill

Cadet G. G. MacGregor
" H. S. Boyd, A.C.

Signalman William Braithwaite, R.N.
" George Griffin, R.N.
" J. H. Fraser, B.S.C.

S.M. Samuel Braithwaite
" J. H. Thompson
" R. H. Wilson
" James R. Boyd
Sgt. V. Beattie, M.M.
" James Braithwaite
" R. Braithwaite, D.C.M.
" H. Connolly, M.M.
" J. O. Chambers
" John Cree
" William Dunlop
" John Lutton
" Matthew Lyness
" Robert McNeill, M.M.
" Fred Moore
" James Moore
" John Moore
" Alex Murdock
" William James Neagle.

Corporal Robert Cousins
" David Curran
" Quintin Dunlop
" James M. Irvine
" John Lutton, jnr.
" William McNeill
" Albert Rose
" George Rose
" James Skelly
" John Skelly
" William Stuart.

L. Corporal T. Cathcart, Jnr.
" Harry Egerton
" Martin Griffin
" John Johnston
" Samuel McConnell
" William Ritchie.

Guardsman William Cunningham.

Gunner William Archer.

Private Ernest Beattie
" Robert Beattie
" Andrew Bell
" John Bell
" John Bell, jnr.
" Harry Bell
" Samuel Blakely
" W. J. Blakely
" T. Cathcart
" Robert Cathcart
" T. J. Carson, jnr.
" Jack Connolly
" Andrew Coulter
" John Dowds
" Daniel Dunlop
" William J. Freeman
" James Freeman
" James Graham
" R. J. Gillian
" Robert Guinn
" Robert Hamilton
" David Hanna
" James Henry
" John Hillis
" John Hopkins
" Henry Keery
" James King
" George King
" James Kissack
" George Lewis
" James Lewis
" William Lewis
" Francis Lennox
" Albert Lyness
" David Lyness
" Alexander Maginnis
" Samuel Martin
" Joseph McCarthy
" James McCaw
" Thomas McCormick
" Edward McConnell
" James McDowell
" T. H. McDowell
" Joseph McMordie
" John McNair
" Isaac McNair
" J. McNeice
" Alex McNeill
" William Moore
" Francis Neagle
" Thomas Neill
" T. H. Philpott
" William Pearson
" John Ramsey
" James Ramsey
" Arthur Rogan
" David Scott
" George Skelly
" James Skelly
" James Skelly
" John Skelly
" J. R. Skelly
" Walter Skelly
" William Skelly
" William Shirlow
" D. A. Spence
" James Stewart
" William Stewart
" William Stranicks
" J. Thompson.