St. Andrew's, Colin, Lisburn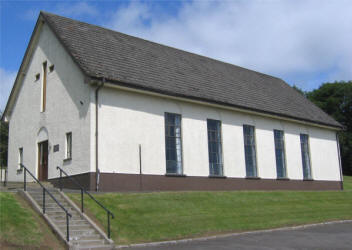 St. Andrew's, Colin, built in 1957.

Rev. John Budd
Rector
Rev Helen MacArthur
Curate
Colin - St. Andrew's
Mullaghglass Road, Lisburn
Rector: Rev. John Budd
Telephone: 9061 0859
Sunday services:
Morning Prayer: 11.30am
Family service: on 1st Sunday
Holy communion: on 4th Sunday
Web site: www.connor.anglican.org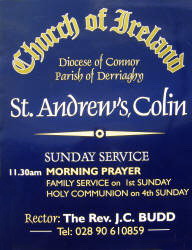 Notice Board at
St. Andrew's, Colin.
Brief history as recorded in a book 'Lisburn's Rich Church Heritage' by John Kelly
St. Andrew's was built in 1957, to serve the Colin and Castlerobin areas of the parish. It was opened and dedicated on Friday 21st June 1957. A Curate's bungalow was built in the early 1960s. The present Rector, the Rev. John Budd, was instituted in January 1997. The curate, the Rev Helen MacArthur, was made Deacon in June 2008 and was ordained Priest in June 2009.