St. Andrew's, Tunny
St Andrew's, Tunny
opened in 1855.
Notice Board at
St Andrew's, Tunny
Rev. John Rutter
Minister
Rev Mark Reid
Curate
Feumore Road, Ballinderry
Minister: Rev John Rutter
Telephone: 9442 2361
Sunday Service: 10.00am
Web site: wwww.connor.anglican.org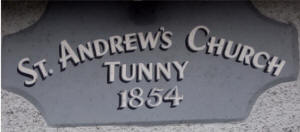 Stone panel at St Andrew's, Tunny.
HISTORY
In 1854, during the incumbency of the Rev. E. Johnston-Smyth at Glenavy, a small church was built at Feumore, about 4 miles from Glenavy, to be known as St. Andrew's, Tunny. The small plain building cost £209 to build, but over the years has been greatly improved. It opened for worship on 25th March 1855. Extensive repairs were carried out in 1883, and new seating installed. In 1893, a chancel 15 feet long was added, with all the necessary furniture for the choir and a harmonium. It was consecrated on 31st July 1893. To mark the fiftieth anniversary of the church, a marble and Caen stone font was placed in the aisle, paid for by members of the Bible Class. Many gifts were presented to the church at a special centenary service in 1955. The memorial east window was presented in 1962, and in 1973, a communion table and reading desk. A meeting room, kitchen, and toilet facility were added in 1996

The present minister, the Rev. John Rutter, was instituted here on 2nd September 2004. Mark Reid, previously in Kilbride Parish, Doagh, was ordained in the Auxiliary Ministry for the Curacy of Glenavy at a service of Ordination in Lisburn Cathedral on Sunday 24th June 2007.