St. Colman's Dunmurry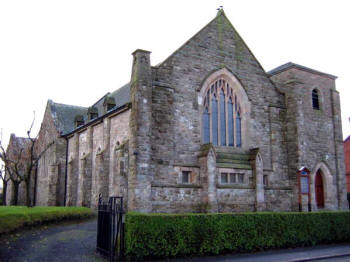 St. Colman's, Dunmurry.
The church was consecrated in April 1908.
Rev Denise Acheson
Rector
John Williams Parish Reader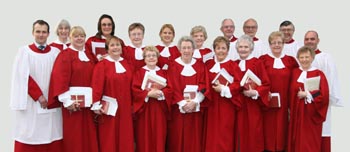 St. Colman's Church Choir
St. Colman's, Church Avenue, Dunmurry.
Rector: Rev Denise Acheson
Telephone: 9061 0984
Sunday Services:
Morning Worship: 11.30 am
Evening Worship: 6.30 pm
Web site: https://www.stcolmansdunmurry.com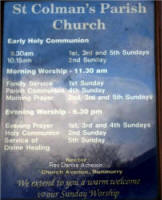 Noticeboard
History
The people of the hamlet of Dunmurry first worshipped in a building known as the Assembly Rooms, constructed in 1874 and in use today as the Parochial Hall. But they wanted a Church of Ireland in the village. They secured a site on the main Belfast-Lisburn road, but as this may have affected the congregation of Upper Falls, they instead bought the current site, which belonged to the Northern Bank. The Bishop of the Diocese gave his consent, and building began. The consecration, by the Rt Rev John Baptist Crozier, Lord Bishop of Down, Connor and Dromore, took place on St Mark's Day, 25th April 1908.
The parish continued to be linked to Drumbeg Parish until 1932. Canon Ellis was appointed curate-in-charge and was made rector in 1945. Following his retirement he was followed in turn by Canon Terry Rodgers, the Rev Mike McCann, and the Rev Tom Priestly. Mr Priestly, previously curate in Ballymena, was ordained in 1994 and instituted in St Colman's, Dunmurry in 1999. He was found dead at his home on Saturday morning 25th August 2007 and his funeral took place on Thursday 30th August in the Dunmurry parish where he was rector for eight years. John Williams was commissioned Parish Reader in June 2006. The present Rector, the Rev Denise Acheson, formerly Curate Assistant of Ballyholme Parish, was instituted in St Colman's, Dunmurry on Thursday 1st May 2008.
The above brief history is compiled largely from a Centenary Booklet by the Rev Canon Terry Rodgers, based on an original article by former rector the Rev Canon R C Ellis.