St. John's, Crumlin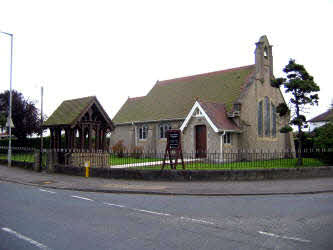 St. John's, Crumlin, consecrated in 1903.
Rev. John Rutter
Minister
Rev Mark Reid
Curate
Main Street, Crumlin.
Minister: Rev John Rutter
Telephone: 9442 2361
Sunday Service: 10.00am
Web site: www.connor.anglican.org
HISTORY
The rector and select vestry of St. Aidan's, Glenavy, decided in 1902 to go ahead with the building of a new church at Crumlin. At that time services for Church of Ireland families in the area were held in the local courthouse, each Sunday at 4.30 p.m. The Sunday School was held in the old Laurelvale School, which is now a private house. The Rt. Rev. T. J. Welland - Bishop of the United Diocese, consecrated the new church of St. John's, Crumlin, on 12th September 1903. A new heating and lighting system was dedicated by the Bishop of Connor, the Rt. Rev. R. C .H. Elliott in December 1962.
The present minister, the Rev. John Rutter, was instituted here on 2nd September 2004. Mark Reid, previously in Kilbride Parish, Doagh, was ordained in the Auxiliary Ministry for the Curacy of Glenavy at a service of Ordination in Lisburn Cathedral on Sunday 24th June 2007.