St. Luke's Church, Twinbrook
| | |
| --- | --- |
| | |
| The original church was opened in 1981. After repairs, the church was re-opened in July 2000. | The interior of St. Luke's Church, Twinbrook. |
| | |
| --- | --- |
| | |
| The Very Rev. John Murray Parish Priest | Rev. Darach Mac Giolla Catháin Catholic Curate |
Twinbrook Road, Dunmurry, BT17 0RP
Parish Priest: The Very Rev. John Murray, P.P.
Curate: Rev. Darach Mac Giolla Catháin CC
Telephone: 028 9061 9459
Masses: Sunday: 6:30pm (Vigil); 10:00am, 12:00 noon & 5:00pm.
Weekdays: Monday – Saturday 10:00 am;
Monday, Wednesday & First Friday 7:30 pm
Divine Office: Monday – Friday 9:40 am & Friday 7:00 pm
Rosary: Monday – Friday 10:30 & 6:40
Website: www.downandconnor.org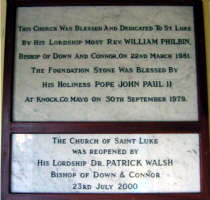 Marble Tablet at St. Luke's Church, Twinbrook
Brief history as recorded in a book 'Lisburn's Rich Church Heritage' by John Kelly
The Twinbrook development began in the early 1970's as people came here to live from all parts of Belfast. At this stage it was part of Derriaghy parish and a bus brought people to the Church of St Anne's to worship there each week.
As Twinbrook continued to develop, its people set about building their own Church. Initially, they gathered for Sunday Mass in a temporary building erected on the site of what is now St. Mark's School. When the congregation outgrew the first building, they moved to a larger temporary accommodation on what is now the car park of the present church. In 1976 Father Francis Park was appointed the first Parish Priest being succeeded in 1977 by Father Liam Mullan who remained until 1985.
During Father Mullan's ministry, the present church was built. The Foundation stone was blessed by his Holiness Pope John Paul II at Knock, in September 1979 and the Church was opened in March 1981. Fr. Brendan McGee and Fr. Laurence McElhill followed as Parish Priests and the present one, the Very Rev. John Murray, was appointed in August 1998. During his ministry major repairs and refurbishment were carried out and the church was re-opened in July 2000. The present curate, the Rev. Darach Mac Giolla Catháin, was appointed in August 2002