St. Peter's (The Rock), Stoneyford
| | |
| --- | --- |
| | |
| St. Peter's Church (The Rock) Stoneyford. | St. Joseph's Church, Hannahstown. |
TheVery Rev.
David Delargy
Parish Priest
The Rt. Rev. Monsignor John Murphy pictured inside St. Peter's Church, Stoneyford
The Rt. Rev. Monsignor John Murphy
Priest in Residence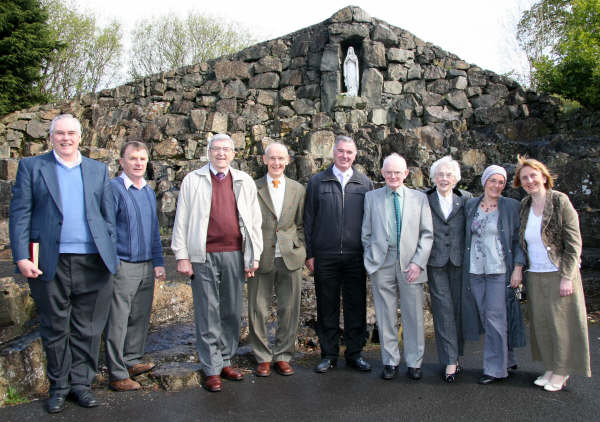 At morning worship in St Peter's Church (The Rock) Stoneyford in May 2009 are L to R: Gerald Corr, Cyril Jordan, Stephen Mulligan, Tom McGarrity, Brendan Mulholland, Joe Murray, Kathleen Corr, Belle Corr and Rosemary Steele (Organist).
Rock Road, Stoneyford, Lisburn.
St. Joseph's Church, Hannahstown.
Parish Priest: The Very Rev. David Delargy
Telephone: 9061 4567.
Priest in Residence: The Rt. Rev Monsignor John J Murphy
Telephone: 9264 8244.
Sunday Mass: 7.30pm Vigil; 10am.
Website: www.downandconnor.org
Brief history as recorded in a book 'Lisburn's Rich Church Heritage' by John Kelly
Father Hugh O'Donnell, who built old St Mary's in Belfast in 1784, also built St Peter's The Rock at Stoneyford in the following year. It was a victim of the violence of 1798 and was replaced in 1830. An entirely new church, dedicated in 1977, was badly damaged in an arson attack in 1997, but restored and re-opened in the following year. The present parish priest, The Very Rev David Delargy, commenced his ministry here in August 2006 in succession to The Very Rev Dermot McCaughan who moved to St Patrick's, Lisburn. The induction service for Fr Delargy was held during the Parish Mass in St Joseph's Church, Hannahstown, on Saturday 23rd September 2006. Fr Delargy is assisted at St Peter's, Stoneyford, by The Rt Rev Monsignor John Murphy, who following his retirement in July 2004 was appointed Priest in Residence in August 2004.