Missionary conference at Lisburn Baptist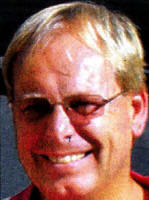 Dr. Chris Wigram from European Christian Mission who will be speaking at the conference
'A HEART for the harvest' is the subject of the annual missionary conference being run at the end of September by Lisburn Baptist Church.
David Collins, the church's missionary secretary, explained: "This year's theme is based on the words of Jesus in the New Testament."
The four-day event will be held between Saturday, September 29, and Wednesday, October 3, (except on Tuesday) and includes special children's and women's programmes as well as a youth night.
The conference begins on the morning of Saturday, September 29, with a visit from Brazilian pastor, Francisco Iranildo, of Acre International at the prayer breakfast.
It's followed by a children's event organised by Wycliffe Bible Translators at 2.30pm. Running parallel with this, Arlene Adams will be the main speaker at the women's event.
Arlene is a member of Lisburn Baptist, and married to Hamilton, a member of Sloan Street Presbyterian. They are based in Austria, having served in mission abroad for over 40 years.
Saturday concludes with , a Youth Night at 7.30pm which will focus on the global persecution of Christians who suffer for their faith.
Open Doors is a charity which exists "to strengthen the church to be the church in the most hostile places" and one of their staff will lead the youth night.
The missionary conference continues on Sunday, September 30, at 11.30am with 'Europe' with Dr Chris Wigram of European Christian Mission, England and at 6.30pm with 'Galway' with Jason Post of Baptist Missions, on Monday, October 1, at 8pm with 'Flying for Life' with Mission Aviation Fellowship and on Wednesday, September 2, at 8pm on 'Practical Help' for building and water projects with Lisburn-based Friends in Action.
All missionary conference events will be held in the Lisburn Baptist church complex, Longstone Street.
Everyone is welcome and parking is available off Tonagh Avenue.
Ulster Star
21/09/2012