Amazing Journey visits Brookfield

Volunteers from Lisburn Baptist with Rachel Kelly, the presenter of the Amazing Journey to Bible Times. (I-r) John Baird, Victor Watson, Helen McBride, Richard Patterson, Irene Rea, Lillian Robinson, Joan Wright, Stephen Wright, Rachel Kelly, Robin Fields, Gillian Hilland, Jim Ferguson, Gemma Greer, Pastor John Taylor.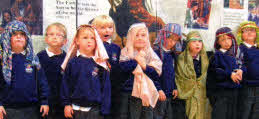 Brookfield Base 4 pupils participating in an Amazing Journey activity.
THE principal of Brookfield School, Moira, Mr Brendan Gillan, welcomed the Amazing Journey team with their interactive Bible presentation on Wednesday September 26.
Mrs Rachel Kelly, who heads up school events throughout Northern Ireland on behalf of Baptist Youth said: "It's a privilege to be able to share Bible Stones with the children through the Amazing Journey. As they 'journey' in their minds to Bible times, Is° hope the children will be enthused to find out more from God's Word themselves."
Mrs Armstrong, who teaches Base 4 (Year 2) at Brookfield, was one of the teachers there with her classroom assistants, Mrs Pyper and Mrs McDowell.
She remarked how all the children "really enjoyed it and really did listen well".
A team of volunteers from the local Baptist Church in Longstone Street, Lisburn, were on hand to help with setting up the large visual screens in the assembly hall, pm-paring Bible food for the children to taste, and assisting them as they dressed up as Bible characters.
Both Knockmore and Old Warren Primary schools also had the opportunity to experience the Amazing Journey to Bible Times last week.
In total almost 300 primary school children each received a colourful folder as a special memento of the visits.
Ulster Star
05/10/2012