Well Known local woman passes away at age of 90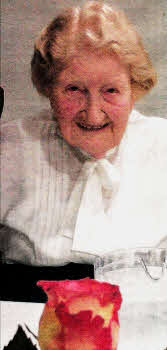 Amelia Megarry
DROMORE born woman Amelia Megarry has died recently after a short illness at the age of 90.
Amelia, who was one of the oldest members of the Priesthill Methodist Church congregation, was a devout Christian who was born on October 29, 1921 and originated from Two Mile Hill Farm.
She went to Backnamullagh School and attended the Bann Road Presbyterian Church. In 1931 at the age of ten she trusted the Lord as her 'Personal Saviour', after attending a tent mission near the Home Farm.
As a child growing up she would polish shoes for the whole family on a Saturday. She taught in the Sunday School and would walk miles to Sunday school and church each week. She completed a secretarial course at Lisburn Tech and worked for nine years at the Broadway Damask Company, Belfast, Linen Mill and became Private Secretary to the Director Mr Shillington.
She returned to work at home when her mother became too ill to care for the family and fed the farm workers.
On Saturday nights she got on her bike to attend the Youth Meeting where she met her future husband Billy Megarry from Nuthill Road, Ballyknock Moira.
They would go together to Dromara CWU on their bikes. They married on June 4, 1947 and bought a small farm at Rose Cottage, Kilwarlin Road, Ballyknock. They had five children Margaret, William, Carole, George and David.
They had two large Hen Houses to look after and Billy grew potatoes. McVeigh's lorry would come in at Harvest Time with 20 potato pickers known as 'Hokkers' to help out. Amelia would make wheaten bread, cakes and dinners as well as cans of tea for the workers. She baked her famous apple tarts, and made jam for 'many neighbours and friends.
She attended Priesthill Methodist Church and was the eldest member of the congregation having been an active member for over 40 years.
She was actively involved in many areas of church life including prayer meetings, Bible studies, M.W.A. meetings and church lunches where she regularly sent a large pot of vegetable soup.
She even closed in prayer at the last Ladies' Bible Study which she attended in November. Her husband passed away almost thirty years ago.
Another big part in Amelia's Christian life was the Mission Hall at Bottear and the associated missionary work over the past 60 years. For much of that time she booked speakers and sorted the gifts and money for the various missionaries. She rarely missed the weekly prayer meetings.
She had five grandchildren Andrew, Stephen, Ruth, Rachel and Katie.
Ten years ago, on her birthday, flowers were delivered to her home. When she opened the door the delivery man asked her 'Are you 95?" She promptly replied No, I'm not, I'm only 80!" She soon realised he was not asking her age but simply the house number.
She always had an open house for neighbours, friends and family and would often hand then a cup of tea, a bun, and many left with a pot of jam. The young people from Bottear enjoyed many a party she organised around her home at Christmas or a big supper after the Harvest Services at the Mission Hall.
Some years ago she worked voluntarily for the DOE where she would she clean gullies and roadsides when they were blocked and flooded. In recent years, she loved to watch television with Countdown, University Challenge and other TV quiz shows being her favourites.
She kept a keen interest in local affairs via newspapers and radio and Christian radio was a major part of her life, Even when she was at Drumlough House two years ago, she took her radio. Radio Star, Radio North and Zion's Way, with her. Sunday dinners were very special and she rotated around the three family homes, often bringing her soup and apple crumble with her.
She was blessed with exceptional neighbours who helped prepare the vegetable garden.
Family and friends gathered on October 29 2011 to celebrate her 90th Birthday, and enjoyed a great afternoon together.
Ulster Star
27/01/2012