Former rector passes away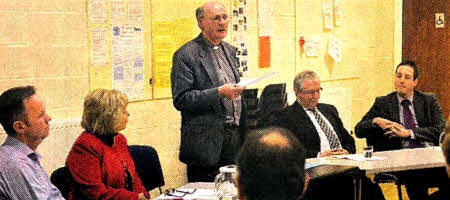 At St Mark's Church Ballymacash, for a discussion forum on putting faith into practice are Chair Canon George Irwin, MIA Paul Givan, commentator Seamus Close, Pond Park PS principl Geoffrey Cherry, and Mother's Union president Moira Thom US1412-413PM Pic by Paul Murphy
A FORMER Rector of Moira Parish, Canon Bob Rudd, has passed away.
Born in 1934, Canon Rudd was ordained deacon in 1957.
He served curacies in both Lurgan and Lisburn Cathedral before serving for four years as Curate Assistant in Willowfield in the Diocese of Down.
His first incumbency was in Drumgooland with Kilcoo from 1966-75 and then he moved to Moira where he was rector for twenty years.
Mr Rudd became a Canon of Belfast Cathedral in 1990 and retired to live in Banbridge in 2002 after his third incumbency in Magherally and Annaclone. The funeral was on Sunday April 22 in Magherally Parish Church.
Ulster Star
27/04/2012