Christian Aid says thank you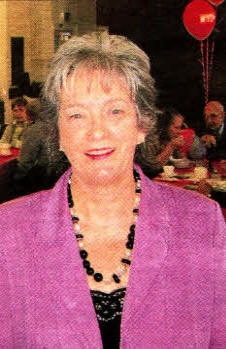 Mrs Hazel McCall at a Christian Aid Week lunch in Lisburn.
FOUR hundred volunteers across Lisburn and the surrounding area helped out as part of this year's Christian Aid Week.
A bread and cheese lunch in First Lisburn Church managed to raise nearly £4,000 and Christian Aid wants to thank everyone who helped out.
Hazel McCall, Christian Aid's Lisburn organiser, said, "We are very grateful for all volunteers, many of us have been doing this for many years."
"Hazel also helped arrange a street collection in Lisburn city centre and raised a further £700. Hazel, now in her 31st year of collecting, added, "In times of recession, it's very gratifying that people can help out others in poorer parts of the world."
House-to-house collections took place across Lisburn and the money continues to come in from all places across our area. By raising money through these events, Christian Aid can continue to work with local organisations around the world to help provide a better future for those who are less fortunate.
And for your kind donations, Christian Aid . would like to extend a massive thank you to the people of Lisburn.
Ulster Star
08/06/2012