Churches make mums smile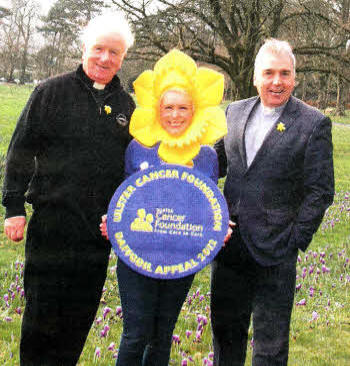 Sunshine Suzi Mcliwain (UCF) meets Father Dermot McCaughan from St. Patrick's Church and Reverend Paul Jamieson from Hillhall Presbyterian Church, Lisburn, to show support for the 2012 Daffodil Appeal.
LOCAL cancer charity the Ulster Cancer Foundation (UCF) is encouraging churches in Lisburn to make Mums smile this Mother's Day by giving them a UCF Daffodil Pin, supporting the UCF Daffodil Appeal which runs this year during March and April.
The daffodil is the international symbol of hope in the fight against cancer and in previous years kind supporters have raised substantial amounts of money to fund UCF research, education and prevention programmes. The money also goes towards providing care and support services for all those affected by cancer in Northern Ireland.
Suzi Mcllwain, Community Fundraiser at UCF said: "Our yearly Daffodil Appeal is very important to us as all of the free-of-charge services we provide are funded through the generosity of the general public. We would love it if churches across Northern Ireland could help us out by requesting a box of our Daffodil pins and taking a collection for this year's Daffodil Appeal Mother's Day, Sunday March 18. All monies raised will be used to support mums, dads, kids and grandparents affected by a cancer diagnosis across Northern Ireland.
If you would like to know more about UCF and the services UCF provide or would like to request some daffodil pins please contact Suzi on 02890 680 746 or email suzimcilwain@ulstercancer.org.
Ulster Star
16/03/2012