Reformed Presbyterian Church plans week of community action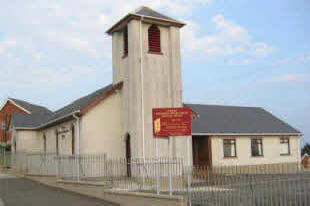 Lisburn Reformed Presbyterian Church
LISBURN Reformed Presbyterian Church will be involved in a community action week from Saturday 4th -12th August.
It is called a 'GO Week' because as the minister Rev Robert McCollum explained, "the congregation is going out to serve the community"
A wide range of activities have been planned in which most members of the congregation will
participate. These activities will include:
* A Caring Ministry. "Older people can often be neglected by family and community so we plan to visit our senior members so that the week includes them", explained the minister.
* A Book Fair. A wide range of Christian books and Bibles, catering for all ages, will be on display for sale on Thursday 9th. Coffee, scones and traybakes will be served at this event.
* A 5-Day Holiday Bible Club. Children had a special place in the ministry of Jesus so the church plans to cater for children (ages 4-11) in the church building on the Nettlehill Road each evening from 6.30-8.00pm.
* Community Lunch. On Thursday 9th the ladies in the congregation will provide a lunch for senior members of the community at 1pm. This will be an event to build friendships and enjoy a time of social interaction over a meal.
* Nursing Home Visits. During the week a group from the church will go to several nursing homes in the community to provide entertainment as well as present a message of encouragement from the Bible.
* Upper Room Ministry. A team from the church will provide a ministry for those suffering from depression or various kinds addictions on Tuesday 7th from 7.30pm.
* A Special Guest Service. Sabbath evening 12th at 7.00pm. The guest service will link in with the theme of the Olympics. Mr McCollum will preach about the Christian life which is compared to a race in Philippians 3. Everyone in the community is invited.
The congregation is hoping for good weather for all outdoor events — especially the Free Car Wash on Saturday afternoon (4th) in the church car park and the community barbeque on Friday evening. For more details contact: robertmccollum@btopenworld.com or telephone 9266 4313.
Ulster Star
03/08/2012