More success for Hillhall Juniors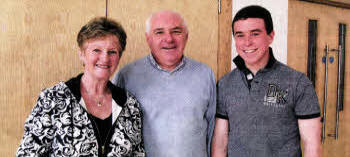 Rev. Alan Ferguson, who hails from Lisburn, at the recent Irish Christian Endeavour Union's Talent Contest Finals with Eileen Scoffield and Jordan McCullough, a youth leader in Carrickfergus.
CARRICKFERGUS Methodist Church's magnificent new building was the impressive setting for the Irish Christian Endeavour Union's Talent Contest Finals, where there was success for Hillhall Juniors once again.
Members of Hillhall Presbyterian Junior Christian Endeavour Society feature regularly amongst the prizewinners and this year was no exception. Bringing honour to their Society was Joshua Rush gaining a certificate in the Verse Speaking, 8 years and under Class and Charlotte Patterson in Bible Reading 8 years and under.
Competitors, leaders, parents and friends were welcomed by the Church's Minister, the Revd. Alan Ferguson who opened in prayer. Mr Ferguson's daughter, Mrs. Gillian Thompson, the Irish CE Union President, presented the cups and certificates to the prizewinners.
Both Mr. Ferguson, a former President of the Methodist Church in Ireland and his wife, Joan are from Lisburn and both their mothers still reside in the City.
Irish Union Junior Convenor, Mrs. Rosemary Carson, assisted by Caroline Edgar organised the Contest Finals.
Mrs. Carson expressed her appreciation for the use of the Church and to Mrs. Eileen Scoffield for her help. She also voiced her appreciation of the adjudicators, Mrs. Ruth Mitchell, Mrs. Dee Hawthorne and Mr. George Hewitt. Thanks were extended to Miss Barbara Wilson for writing
the certificates and to those who organised the Tuck Shop and those who served refreshments.
This Talent Contest was a happy, relaxed event enjoyed by both the participants and audience alike. The adjudicators were in no small way responsible for this as they put the competitors at their ease and then gave helpful comments on every performance.
Ulster Star
11/05/2012