Here we `Glasgow' - locals ready for sponsored walk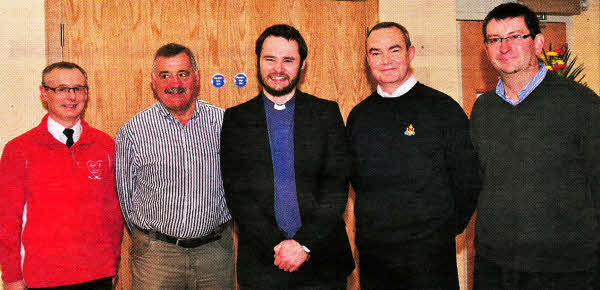 Those taking part in the walk from Hillsborough to Glasgow, from left to right, are: Eddie Poots, David Workman, Andrew Conway, Assistant Minister in Hillsborough Presbyterian Church, Jon Henry and Neil Maclaren.
THE congregation at Hillsborough Presbyterian Church this year celebrates its 180th anniversary.
As part of the celebrations a team of five walkers, as well as their support team, will walk from Hillsborough to Glasgow in a route often followed by Presbyterian students in the past.
Those taking part in the walk are Eddie Poots, David Workman, Andrew Conway, Assistant Minister in Hillsborough Presbyterian Church, Jon Henry and Neil MacLaren.
As well as paying respect to the past, the walk will also raise funds for a building project in the congregation and the Alzheimer's Society.
180 years ago Irish Presbyterianism was enjoying something of a golden era. Under the strong leadership of Henry Cooke, the Ulster Synod reaffirmed its commitment to the biblical doctrine of the trinity This took place in the late 1820s, and was to lead to the forming of the General Assembly in 1840. A period of renewed focus on mission both at home and abroad was to follow, as too was the famous revival of 1859.
Among the other noteworthy events to happen in the life of Irish Presbyterianism at this time was the founding of what is now Union Theological College, in 1853. Prior to this, students for the ministry were unable to do their theological training in Ireland, and as a result most studied at Glasgow University. In those less affluent days travelling to Glasgow was not an easy task.
Remarkable as it may seem to us, many completed this journey on foot - walking from home to the coast, travelling by boat to Portpatrick, and then walking to Glasgow.
This summer, a team from the congregation hope to mimic this amazing journey. If all goes to plan, they will leave after their morning service on Sunday June 10. They will walk to Belfast that day and set sail the following morning. God willing, they will arrive in Glasgow the following Saturday, after approximately 120 miles of walking. Five members of the congregation aim to walk the entire distance, with another two or three coming along as a support team.
Preparations have been ongoing for some time. One of their avid and able hill-walkers has carefully devised a route that should get the walkers there without using busy roads. Another member of the congregation has used his marathon running experience to help them prepare physically.
Others have called upon their business and marketing skills to arrange travel and accommodation, and to publicise the walk effectively. Nearer the time, their badminton club will be providing a BBQ lunch for them on the day of their departure. Perhaps as many as 100 people from the congregation, of a variety of ages, will join the walkers for the initial walk to Belfast. Likewise, a number have arranged to join them for the weekend in Glasgow - including the organist, who will play at a service on the Sunday.
Many outside the congregation . have been very helpful too: Professor Kirkpatrick of Union College kindly provided some historical background; Glasgow University have granted them the free use of their magnificent chapel to hold a service on Sunday June 17; others have promised travel and accommodation at reduced rates; and they have already received some generous sponsorship, funds raised are being divided equally between a building project in the congregation and the Alzheimer's Society - donations can be made at https://my.give.net/glasgowwalk2012 and are, of course, most welcome.
No doubt the team will find this a very demanding task, however, Andrew Conway, the Assistant Minister in Hillsborough Presbyterian added: "I have warned all the walkers, though, not to expect a shorter sermon in Glasgow, no matter how tired I may be.
"All the same, it will be considerably easier for us than it was for those who made the same journey 180 years ago - they didn't have GPS technology to help plan their route, they may well have spent some nights sleeping rough, and they certainly didn't have a minibus following them in case anything went wrong.
"Of course, even those courageous ministry students of a former generation should not be viewed through rose tinted spectacles. Nevertheless, it would be a shame if we were anything less than inspired by their active faith."
Ulster Star
25/05/2012