St Mark's Church hosts Holy Week discussion forum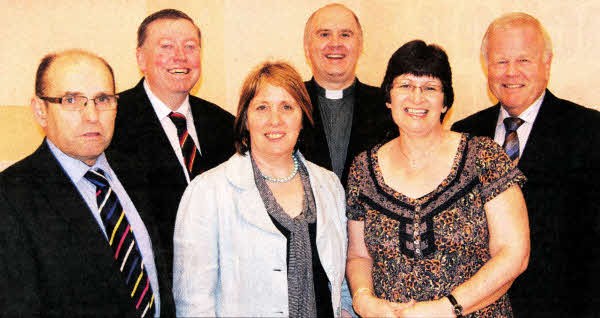 Councillor John Palmer, Alderman Paul Porter, Councillor Jenny Palmer, Damask Chairman Rev Brian Anderson, Damask Secretary Jane Dawson and Lagan Valley MLA Trevor Lunn. Lagan Valley MLA and Lisburn Alderman Paul Givan was also at the Service.
THE annual Holy Week Discussion Forum will take place at St. Mark's Church, Ballymacash Road on Tuesday April 3 at 8pm.
For several years St. Mark's has held a Discussion Forum during Holy week. The aim is to provide an opportunity for people in the Church and the wider local community to discuss issues such as health, education, policing etc. and to encourage parishioners to become aware of the social and civic responsibilities that flow from a living faith.
The format of the Discussion Forum is based on the concept of "Question Time" on BBC1 with a Chairman and usually four panellists who are asked to respond to a number of key questions.
The questions, relating to areas of topical debate, are sent to the panellists well in advance and on the night of the Discussion Forum each question is asked formally by a member of the audience. The panellists are chosen because of their interest and expertise in areas such as education, policing, social work, overseas aid, the media etc. After the members of the Panel have had a chance to answer each question the Chairman invites the audience to make comment or ask supplementary questions.
Over the years the Discussion Forum has been successful in generating lively discussion in a non-contentious atmosphere and has proved not only to be educational, but also morally and spiritually challenging for those who have taken part. This annual event also provides a valuable opportunity for parishioners to convey their appreciation of the sterling service rendered to the community by hard working public servants.
This year's Discussion Forum takes place on Tuesday April 3 at 8.00p.m. in the Minor Hall at St. Mark's. It will be chaired by the Rector, Canon George Irwin and the panellists will be: Mr Paul Givan, MLA, Chairman of the Justice Committee in the NI Assembly; Mr Seamus Close, political commentator and former Mayor of Lisburn, Mr Geoffrey Cherry, Principal of Pond Park Primary school and Mrs. Moira Thom, Connor Diocesan President of the Mothers' Union.
Ulster Star
30/03/2012