Service to mark 50 Years of missionary work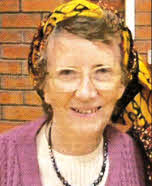 Kathleen Lillie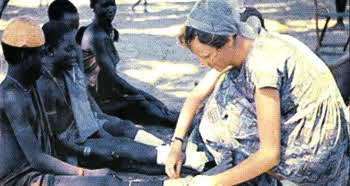 Kathleen using her nursing skills in Africa in 1964
IT'S almost half a century since Kathleen Lillie was sent out as a missionary nurse to Africa from Lisburn Baptist Church. In 1963 local folk met in the church, at that time a much smaller building in Tonagh Avenue, to wish Kathleen well for the work to which God had called her.
As a young person in her early twenties she knew little of how her life might unfold working with the Sudan United Mission. But her experience as a hospital nurse stood her in good stead.
After her farewell service in 1963, Kathleen's parents started a monthly prayer meeting in their home in Rosslyn Park and her links with her home town of Lisburn never ceased.
She has visited Lisburn Baptist on many occasions over the intervening years and often explained how God was using her on a continent were life was so different from what she might have experienced in Northern Ireland.
Looking back Kathleen says she is "praising the Lord for almost 50 years serving Him; for how He has helped us throw many difficult times and for the church work we have been able to do."
Kathleen and her husband Daniel, who went on to occupy a senior position in the African church, will both be taking part in a special service of recognition to mark their half a century of faithful ministry.
This will be held in Lisburn Baptist Church in Longstone Street this coming Sunday evening, 20th May at 6.30pm, and everyone is welcome.
Ulster Star
18/05/2012