Live Issue DVD released due to popular demand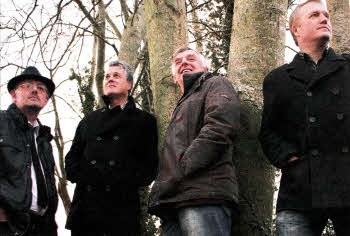 Live Issue
A NEW DVD has been released by the Sky channel, Revelation TV, charting the career and music of local Country / Gospel band, Live Issue.
The hour long programme entitled 'Live Issue — Life and Music' was recorded in London back in August and broadcast on Revelation TV during the autumn. Due to popular demand however, the programme was repeated several times and now has been issued on DVD.
The show includes nine songs performed live in the studio, along with in-depth interviews with the four members of the group, including Brownlee Primary School Principal Colin Elliott. Live Issue discuss their faith, musical influences and relate some amusing stories from their times on tour.
Live Issue's position as the UK's top Country Gospel group was reinforced on February 29 when the boys were asked to open the 'International Festival of Country Music' at the Odyssey Arena in Belfast to an audience of over 5000 country music fans. As well as their own appearance on stage, the group also backed their friend, George Hamilton IV, who described the band as one of the best he had ever worked with in his 55 year career. Other artists on the bill included Asleep At The Wheel, Lonestar, Ricky Skaggs and Reba McEntire.
Colin Elliott, Live Issues bass guitarist and vocalist, described the experience of playing at such a momentous event.
It was a great honour to be asked to be part of the 'International Country Music Festival' and the invitation also came as a big surprise. Some of us had even bought tickets for the event! The Odyssey is a lovely venue and the audience was brilliant to play to. They were with us from the start so we just went out and enjoyed ourselves."
Roy Dreaning and Sam Armstrong also organise 'Gospel Fest', which this year takes place between August 17-19. The Gospel Fest event, which is held in a huge marquee located on the main road between Waringstown and Banbridge, has quickly become the largest Gospel music festival m the UK, with attendances even surpassing the crowds which attend the Whitby Gospel Music Convention in Yorkshire. Gospel music fans can keep up to date with the current line up for Gospel Fest by visiting www.liveissuemusic/gospelfest
Live Issue is a group that is always on the move and the band's diary is now booked over a year in advance. In the past few years Live Issue has clocked up many thousands of miles fulfilling bookings in Ireland, mainland UK and America and this year is set to continue in a similar vein. The group don't plan to tour in America this year however, as they will be busy recording a short series of programmes for Revelation TV as a follow up to the success of their programme contained on the new DVD. In addition to this lave Issue live be appearing at Gospel Fest and other venues in Scotland over the summer months.
Live Issue's much anticipated new CD is also due for release in May and is currently in its final stages of production.
Rhythm guitarist and vocalist, Roy Dreaning explained: "We've been working on the new album on and off for about a year now. We re very happy with it and are looking forward to getting it finished and released. We would like to say a huge thank you to everyone who comes to our concerts and encourages us in the ministry we are involved in. God has opened many doors for us over the last number of years and we are often amazed and extremely humbled when we hear reports of how our music has been used by God to encourage people in places both home and abroad.
The new 'Live Issue — Life and Music' DVD is on sale in Faith Mission bookshops and online at www.liveissuemusic.com.
Ulster Star
23/03/2012