Six new elders at Railway Street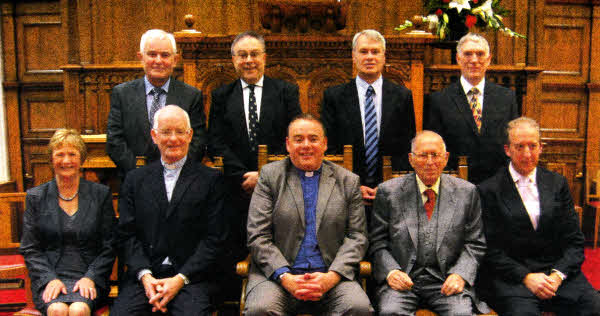 The new elders ordained at Railway Street Presbyterian Church on Sunday, September 16, pictured with Minister Rev Brian Gibson and Senior Minister Very Rev Dr Howard Cromie.Front Row: Jean Murray, Rev Brian Gibson, Rev Andrew Thompson, Very Rev Dr Howard Cromie, Gordon Wallace. Back Row: Victor Hutchinson. Stephen Johnston, Ivan Woods, Geoffrey Rodgers.
SIX new elders were ordained by a Commission of Dromore Presbytery and installed in Railway Street Presbyterian Church at a special Evening Service.
The Commission, led by Moderator of Presbytery Rev Andrew Thompson, expressed good wishes to and prayed for Gods blessing on Victor Hutchinson, Stephen Johnston, Jean Murray, Geoffrey Rodgers, Gordon Wallace and Ivan Woods.
The sermon was preached by Rev William Henry and the charge was given to the newly ordained elders by Rev Howard Gilpin.
Railway Street Band and singers led the worship. A reception for church members, family and friends was held in the Church Hall after the service.
Ulster Star
21/09/2012