Ontario Presbyterian Chorus set for concert in Glenavy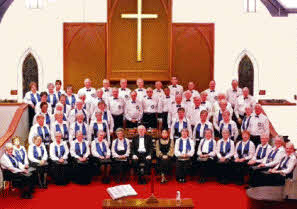 Ontario Presbyterian Chorus
THE Ontario Presbyterian Chorus will be visiting Northern Ireland in June and is set for a very special concert in Glenavy.
Based in Toronto, Canada, the chorus presents the message of the Gospel through an eclectic mix of the psalms, traditional gospel songs and other music portraying the Christian faith.
The Chorus will be performing at a special concert in Glenavy Methodist Church Hall at 7.30pm on Saturday June 2 DV.
The concert is hosted by the Methodist Churches in Glenavy and Moira. Rev Robert Loney, Superintendent Minister of the Methodist and Glenavy Circuit said, "We look forward to welcoming the Ontario Presbyterian Chorus to the circuit and hearing the Gospel presented to us through the psalms, song and scriptures. The concert is sure to be one of the highlights in the life and witness of our circuit this year.
"A very warm welcome awaits everyone who attends and refreshments and a light supper will be served afterwards." he added.
Tickets are now available for the concert with a suggested donation of £10, including supper.
For more information, call Rev Robert Loney on 028 9445 2494 or e-mail robertloney@btinternet.com
Ulster Star
01/06/2012