Warm tributes paid to Past District Master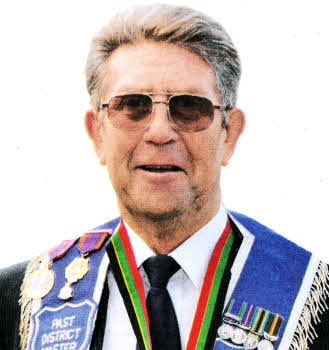 Bro Tom Harrison PDM
TRIBUTES have been paid to Bro Tom Harrison, a Past Master of Lisburn District LOL No 6, who passed away recently.
A service of thanksgiving for the life of Mr Harrison was held in St Columba's Presbyterian Church, Old Warren on Wednesday February 8 with interment afterwards at Lisburn New Cemetery.
Bro Tom Harrison was a member of Sir Edward Carson Memorial LOL 1991, a Past District Master of Lisburn District LOL No 6 and an Honorary Member of Lisnagarvey Women's LOL 207. A few weeks ago, he was present at the Installation of District Office Bearers in Lisburn Orange Hall.
Tom was also a member of Beaconsfield Chosen Few RBP No 14 and a member of Lisburn Branch of the Apprentice Boys of Derry, No Surrender Club. He will be greatly missed at all Lisburn parades.
Bro Jim Drake, Worshipful District Master of Lisburn District LOL No 6, said: "Sad big loss, Big T was a true friend to all - a pure gentleman, he will be missed by all - God only takes the best."
Bro Jonathan Beattie, District Secretary of Lisburn District LOL No 6, added: "Tom was a true friend to me and a faithful member of the Loyal Orders. He was always immaculately turned out at parades and was always supportive of his Brethren."
Bro Rev Stanley Gamble, District Chaplain of Lisburn District RBP No .1 and Grand Chaplain of the Grand Orange Lodge of Ireland, said he was "shocked and saddened to hear of Big T's death. He wore his heart on his sleeve, and he was always ready to lead from the front. He will be sorely missed: It was always a pleasure to be in his company. He loved to tell me about his Dad and the Lambeg drums. His big smile said it all. May God give his family the strength to meet the days to come with steadfastness and patience."
Lagan Valley ME Jeffrey Donaldson (Past Assistant Grand Master), remembered Tom as "a gentle big man." He continued: He always took pride in his appearance and turned out smartly every time he was on parade. I enjoyed his company in the Loyal Orders and in the UDR Association. My thoughts and prayers are with Shirley. We will miss your friendly banter and smiling face. Rest in peace big man."
Sir Knt Colin- Preen, District Registrar of Lisburn District RBP No 1, speaking on behalf of Lisburn District Black Officers and Sir Knights gave his condolences to their family and to RBP No 14 and Lagan Valley MLA Edwin Poots, a member of Lisburn Temperance LOL No 152 said he was "shocked" at the news and offered his condolences to the family.
Alderman Jonathan Craig MLA, a member of Drumbeg Purple Star LOL 638 said Tom would be missed and Councillor Jenny Palmer, a member of Lisnagarvey Women's LOL 207, added: "Big Tom Harrison was the most courteous gentleman and our very own honorary member of Lisnagarvey Womens LOL207. He will be sorely missed by all who knew him. Prayers and thoughts with Shirley and the family."
Ulster Star
10/02/2012