Minister celebrates twenty years at Harmony Hill church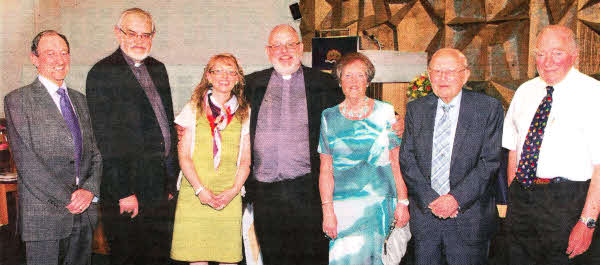 Mr Derek Alexander, Clerk of Kirk Session; Rev Dr. Bert Tosh, Special Guest Speaker; Rev Helen Freeburn, Assistant Minister; Rev David Knox, Minister of Harmony Hill; Miss Nancy Kirkwood, Session Member; Rev Harold Gray, Senior Minister; and Mr Walter Carruthers, Church Treasurer.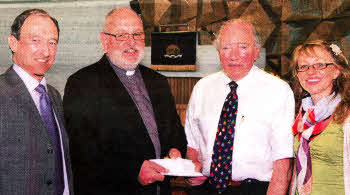 Derek Alexander, David Knox, Walter Carruthers and Helen Freeburn
SUNDAY May 27, 2012 was an important date in the life of Harmony Hill Presbyterian Church, when the congregation celebrated the twentieth anniversary of the installation of Rev. David Knox as their Minister.
The church was full to capacity for a special service of thanksgiving and appreciation for David's ministry, followed by refreshments and a presentation. The preacher was Rev. Dr. Bert Tosh, Senior Producer, Religious Programmes, BBC NI, who based his address on the celebration and thanks to God for Mr Knox 's long ministry.
Dr Tosh said that over twenty years, David had gone out of his way to break down barriers, to encourage friendship and understanding. He had preached well in excess of 1,000 sermons, a lot of preparation. The conducting of public worship is an enormously high privilege and an awesome responsibility, which David had carried out diligently for twenty years.
Assistant Minister, Rev. Helen Freeburn, co-ordinated the service, which included readings by Mrs. Elaine Mairs and Mrs. Jeannie Green, both of whom had special significance for Mr Knox in the early years of his ministry. The prayer of intercession was led by the Clerk of Session, Mr Derek Alexander. The Choir contributed to the service with the appropriate anthem, 'Turn your eyes towards Jesus.'
Refreshments were served in the Main Hall following the service. Mr Alexander spoke on behalf of the congregation, expressing their gratitude and thanking Mr Knox for his faithful ministry over many years. Miss Nancy Kirkwood presented a bouquet of flowers to David's wife, Mrs Heather Knox.
The Church Treasurer, Mr Walter Carruthers, reiterated the thanks of everyone and presented Mr Knox with a cheque to cover the cost of a holiday cruise, so that David could be relieved of the pressures of church ministry for a short while. Mr Knox responded by thanking the congregation for their generosity. He referred to how privileged he and his family had been to serve for so long in such a vibrant congregation as Harmony Hill.
Ulster Star
08/06/2012