New rector instituted for Hillsborough Parish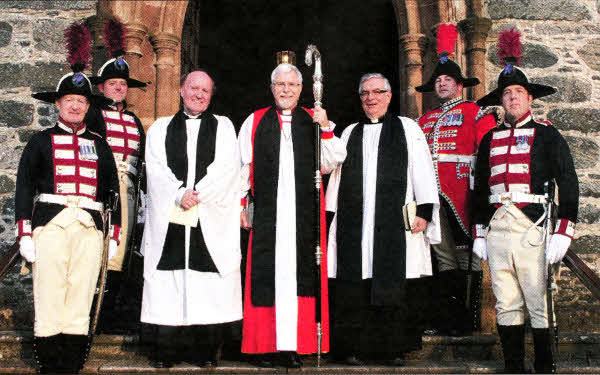 Revd. Ferran Glenfield with Bishop Harold Miller and the preacher, Archdeacon Philip Patterson.
THE REV Ferran Glenfield has been instituted as the rector of Hillsborough. Archdeacon Philip Patterson, with whom Ferran had spent some time as a student reader, preached at the service which was attended by many fellow clergy.
Members of Hillsborough Old Guard added colour to the occasion as they formed a guard of honour on the steps of the church. Before the institution, Bishop Harold Miller dedicated the rectory on the Dromore Road.
Though new to the Diocese of Down and Dromore, Ferran was born in Belfast and educated at Rainey Endowed School in Magherafelt. After a time in teaching he prepared for the pastoral ministry in Dublin and Oxford. He was ordained for the curacy of Douglas in Cork before becoming rector of a group of parishes on the eastern fringe of Cork city. In 1996 the Glenfields moved to Blackrock in south Dublin.
Married to Jean, who teaches in Wesley College Dublin, the Glenfields have three children: Michael, a student at St Andrews in Scotland and Richard and Esther- teenagers who will soon embark on college life.
Ferran is keen on rugby and is convinced that Ulster can go all the way in the Heineken Cup. He and Jean enjoy tennis, hill walking and the arts.
They are looking forward to serving the Lord in the historic parish of Hillsborough and to work in partnership for Christ with the whole community there.
Describing their journey and call, Ferran said: "Just like the Biblical narrative which is full of surprises, so it is with the stories of our lives.
"As a family we have lived, worked and studied in Dublin for the past 16 years. To all extent and purposes we are Dubliners, so it came as a great shock when the Lord jolted us and made it clear that we had to accept the invitation to pastor the parish in Hillsborough.
We have belonged to a church, Kill O' the Grange, the Church of the Granary, which is made up of people of all ages, backgrounds and cultures in the southern suburbs of Dublin. It is an alive church where Jesus is loved and served in practical ways.
"Our call to Hillsborough may be in a different context, but the task is the same; in Pauline terms it is to, 'equip the saints for the work of ministry for the building up of the body of Christ."
Ulster Star
11/05/2012