Installation of new Canon at Lisburn Cathedral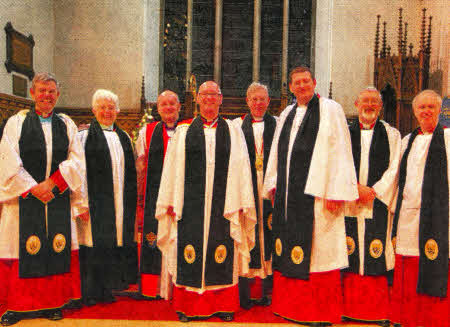 At the installation of Canon James Carson are, from left: the Ven Stephen Forde, Archdeacon of Dalriada, the Rev Helen MacArthur; the Rt. Rev Alan Abernethy, Bishop of Connor; the Ven Dr Stephen McBride, Archdeacon of Connor; the Very Rev John Bond, Dean of Connor; Canon James Carson; Canon John Budd and Canon Stuart Lloyd. Photograph by Norman Briggs.
THE Rev James Carson, rector of St Paul's Parish, Lisburn, was installed a Canon of Lisburn Cathedral at a service on Thursday January 5.
The Dean of Connor, the Very Rev John Bond, installed the new Canon as Prebendary of Cairncastle.
Canon Carson succeeds the Rev Canon Ernest Harris, who retired last year.
Ordained
Canon Carson was ordained in 1984 and was curate in Willowfield Parish and later the Lecale Group of Parishes. He was rector of Devenish, Clogher, where he was also Diocesan Youth Adviser and Diocesan Communications Officer.
Canon Carson moved to the Parish of Upper Malone, Connor Diocese, in 1995, and to St Paul's in 1999.
He is the author of Love and Joy and Peace, a devotional book about the Fruit of the Spirit, which he launched in The Good Book Shop, Belfast, on November 22 last year.
Ulster Star
13/01/2012