Rector is instituted in Moira Parish
The new rector Joanne Megarrell with her family.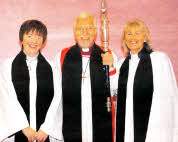 New rector Rev Joanne McGarrell.
CHEERS and loud applause greeted the institution of Rev Joanne Megarrell as rector of Moira Parish where she has served as curate assistant since June 2003.
Rev Canon Liz McElhinny spoke of how Joanne had 'grown in the hearts' of the parishioners since her curacy nine years ago.
Canon Liz, who was for a time Joanne's curate in her home parish of Magheralin, also spoke of Joanne's many gifts and the positive impact she has had on the community of Moira.
Those sentiments were echoed in the remarks made by the ministers of the local Presbyterian, Pentecostal and Methodist congregations who each took the opportunity to welcome Joanne in her new role as rector.
Joanne, daughter of Albert and Irene Megarrell from Waringstown, also attended the service. She has two sisters and a brother. Joanne, together with, the Rev Lorraine Capper, were the first two sisters to be ordained in the Church of Ireland.
After attending Lurgan College, Joanne progressed to Queens University, Belfast and after graduating with a BA (Hons) in German and Biblical Studies and subsequent PGCE, she became a teacher of German and English in Limavady. Joanne grew up under the ministry of the late Dean Roland Hutchinson and the Rev Dr Chris Easton. She became a parish reader in Magheralin before going to the Theological College, Dublin, to train for the ordained ministry.
She was ordained deacon in Dromore Cathedral on June 22, 2003 to serve as curate assistant at Moira Parish.
Joanne succeeds Archdeacon Roderic West who became rector of Seapatrick Parish, Banbridge, in April.
Ulster Star
12/10/2012